Virginia Beach, VA Hotels with Hot Tubs or Whirlpools
View all 6 Hotels with Hot Tub / Whirlpool
With activities in Virginia Beach, VA like the Virginia Zoo and the Sunset Dolphin Kayak Tours, you'll have plenty to do. After a fun day of these great activities, you'll be ready to come back to your hotel so you can unwind in a relaxing hot tub or whirlpool. Enjoy looking through these booking options and find the hotel you'll like best. Order securely online today.


Virginia Beach, VA Hotels with Hot Tubs or Whirlpools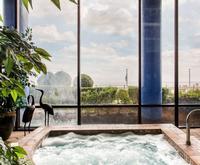 Rating:





While away on vacation or even for work, it is important to relax, and that is why choosing a hotel with a hot tub is important. Comfort Inn & Suites has an indoor hot tub making it a great hotel choice. There are plenty of other amenities to enjoy that include the hot complimentary breakfast, indoor heated pool, a fitness center, complimentary internet access, and hot coffee and tea are available throughout the day. Guest room amenities include a private balcony, internet access, microwave, refrigerator, and cable television.
Indoor Hot Tub is open from 9 AM to 10 PM daily.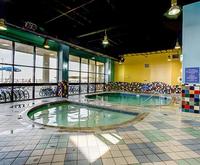 Rating:





Beach Quarters Resort delivers views of the coast while guests enjoy outdoor activities including playing a game on the tennis court or swimming in the outdoor pool. There is a heated indoor pool and a hot tub that guests can enjoy if they don't want to stay outside. Beautiful designs can be seen on the floor surrounding the hot tub and pool that match the other aquatic features in the hotel. Guests can start the day with a free breakfast that includes hot and cold items.
Outdoor Hot Tub is open from 9 AM to 10 PM daily.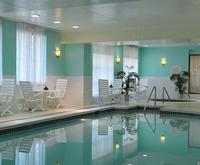 Your Virginia Beach vacation is complete with The Hotel Garden Inn, with great amenities like free newspapers every day, a fitness center, an indoor heated pool, a whirlpool hot tub, a business center, and a restaurant called the Great American Grill. Your room includes free high-speed internet, cable TV, microwave, refrigerator, coffeemaker, complimentary local calls, an ironing board, and room service. For your convenience, the Pembroke Mall is right across the street for all your shopping needs during your vacation. Also close by for you to go to is The Cheesecake Factory, P.F, Chang's China Bistro, and the Red tavern.
Indoor Hot Tub is open from 9 AM to 10 PM daily.
If you love being in the water, this will be heaven for you as you will have the opportunity to relax and enjoy access to a hot tub and a comfortable pool where you can simply relax enjoy the warmth and forget about everything. This is the way for you to really maximize your vacation time and to do something great while having fun in Virginia Beach. When you get home from a day out of enjoying the water you can come home and enjoy the water even more before returning to browse the Internet with complimentary Wi-Fi and sleeping on a comfortable bed.
Indoor Hot Tub is open from 7 AM to 10 PM daily.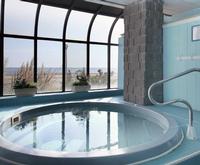 Rating:





Located on the boardwalk in Virginia Beach, Virginia, The Barclay Towers Resort is a great option when booking an overnight trip. The hotel features complimentary breakfast for guests every morning along with a newspaper. The Barclay offers many amenities including a fitness room, heated indoor pool, and a whirlpool hot tub. Travelers can take advantage of the oceanfront rooms that come equipped with a full kitchen or they can head out to one of the many restaurants that are within walking distance. With everything The Barclay Towers Resort offers, it's no surprise why so many make this the top choice.
Indoor Hot Tub is open from 7 AM to 11 PM daily.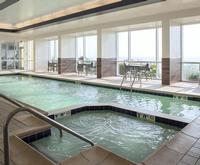 The Fairfield Inn & Suites by Marriott Virginia Beach Oceanfront is located on Atlantic Avenue in Virginia Beach Virginia. This is the perfect hotel for you to stay at if you are looking for a hotel that is located on the beach and delivers the famous Marriott service then look no further because this is the hotel for you. As a guest here you will get to enjoy free Wi-Fi, complimentary hot breakfast and onsite laundry. You will also have access to the fitness center twenty four hours a day. You might want to leave the dogs at home because this hotel isn't pet friendly.
Indoor Hot Tub is open from 8 AM to 10 PM daily.
View all 6 Hotels with Hot Tub / Whirlpool