Bike Rental on The Loop Path

Description
Bike Rental on The Loop Path Photos (1)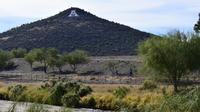 Bike rentals on the Loop Path in Tucson are a lovely way to enjoy the weather and not drive or walk. Someone who is planning to bike the Loop Path can get their bike at the start of the path, and they ride for as long as they want when hitting the trail. The Loop Path rental bikes are fun to ride, and there are multiple sizes in case you bring along the children.
The rental stations are fun to use because they have all the bikes set up and ready to go. You use cash or a credit card to get the bikes, and you simply pull them off the station when it is time to ride. You are charged for your trip when returning to the rental station, and everyone attaches their bikes to the kiosk again.
The bike rental is the cheapest and simplest way for you to enjoy the scenery and weather. You can, of course, stop any time you like, and the bikes are easy to use because they are simple road bikes with few gears.
Let your kids ride with you, and check out the map of the Loop Trail before setting off. You might want to get bikes for everyone, or this could be a bike rental you do because you want to get out in the fresh air.
This is one of the cheapest and simplest ways to invest in your vacation. Take the bikes all the way down the Loop Trail, ask everyone to come along, and spend much less money on a very fun activity.
Pickup your bike at our location across from Rillito Racetrack and Farmer's Market. For morning half day rentals, arrive between 8:45-9:15am. For afternoon rentals, arrive between 12:45-1:15pm.

You'll be fitted with the correct sized bike, which includes a helmet, adjustable water bottle holder, lock, and map. After an equipment overview and safety briefing, enjoy the best section of The Loop path. To the east of our rental location, ride up to 6 miles for beautiful views of the Catalina Mountains and Rillito wash. You might even forget you are in the city: watch for wildlife and livestock. Relax at Brandi Fenton park and check out the Binghampton historic sites. To the west of our rental location, ride up to 9 miles to Tucson's watery oasis's: Silverbell Lake and Sweetwater Wetlands. Closer in, enjoy the shade of mesquite bosques and the Sun Circle ceremonial structure. You'll have more than 30 miles of mapped out riding options to explore. Ride hard or relax. There are plenty of parks along the route with bathrooms, water, and shady areas to rest. There's even a Trader Joe's along the route if you need a snack break.

The map you're provided includes a mileage chart and there is plentiful signage along the route to make tracking your progress easy. For morning half day rentals, return your bike between 12:15-12:45pm. For afternoon rentals, return between 4:15-4:45pm.

Pickup & Return:
Across from Rillito Racetrack and Farmer's Market.
Departure Times: 9:00am and 1:00pm
Rental office is only staffed 15 minutes before and after departure time.

Includes:
Map & mileage chart
Helmet
Lock

Does not include:
Water bottle (16-22oz work best, water available along route)
Snacks

Additional Information:
Confirmation will be received at time of booking
Rental bikes generally fit riders between 5' and 6'5"