Toronto, CA Hotels with an Indoor Pool
View all 36 Hotels with Indoor Pool
When the weather gets chilly during your Canadian stay, make sure you have an indoor pool to relax in when in Toronto. Adults and children alike can enjoy a dip in this seasonal pool! Book today!
Toronto, CA Hotels with an Indoor Pool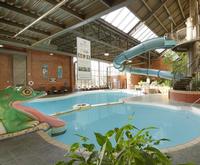 Rating:





Delta Toronto East offers beautiful accommodations with an awesome indoor pool. The slides are a perfect way to keep the kids entertained for an afternoon. The size of the pool will allow for a good work out swimming laps. The kiddy pool is great for the younger children and with a lifeguard on duty you can be assured the whole family will enjoy a safe afternoon or evening swim. What a great addition to a family vacation or even for the hard at work stay over.
Indoor heated pool and hot tub with a separate kids pool available for small children is open from 6 AM to 11 PM daily. There is also a lifeguard on duty.

Rating:





The Novotel Toronto Center features an indoor pool that is heated that guests can enjoy at any time during the year. There is a lift on one side of the pool to assist guests who aren't able to get in the water on their own. The lighting in the pool area makes the water appear as though it's blue, offering a relaxing atmosphere for guests. Blue designs can be seen on the ceiling when guests walk through the lobby as well.
Indoor pool and hot tub is open from 7 AM to 11 PM daily.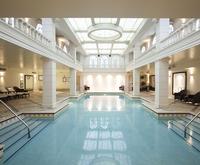 Rating:





The Grand Hotel & Suites in Toronto features a heated indoor pool that is located in the center of the hotel. When guests stand outside their rooms, they can see the pool below them. There is a gift shop in the hotel that is open 24 hours a day that offers souvenirs as well as toiletries and snacks for guests to purchase. Guests can order room service during the day and in the evening. A fitness center features updated equipment as well as a television on the wall for guests to watch.
Indoor heated pool and hot tub is open from 6 AM to 11 PM daily.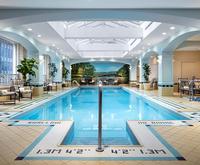 Rating:





Boasting a convenient location near the CN Tower, Harbourfront Centre, and a number of other Toronto attractions, the Fairmont Royal York Hotel is a comfortable space from which to explore the city. The hotel offers elegant rooms that feature minibars, tea and coffeemakers, flat-screen TVs, and WiFi availability. There is an indoor pool, but that is just one of the many amenities that make the hotel an attractive place to stay; some of the other amenities include four restaurants and bars, gym, and whirlpool tub.
Indoor heated pool and hot tub is open from 9 AM to 10 PM daily.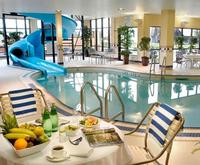 Come enjoy your stay at the Hilton Garden Inn, located in Toronto Canada. This is a downtown hotel, where you can take a load off your feet and relax in one of the spacious hotel rooms when time permits. You can continue to also enjoy your stay in Toronto by walking to the nearby restaurant's shops and attractions such as the Princess of Wales Theater, the Second City Toronto, or the Royal Alexandra Theater. With so many options close by, you are sure to enjoy your stay away from home and enjoy the culture of downtown Toronto without neglecting relaxation, comfort, quality, or convenience.
Indoor pool and hot tub is open from 6 AM to 10 PM daily.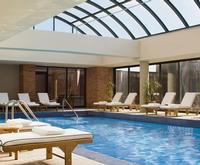 Rating:





A modern heated indoor pool is only one of the amenities that guests can enjoy while staying at the Wyndham Bristol Place hotel. With a blue border around the pool, the water appears to have a blue tint. Sunlight filters through the windows over the indoor area. Rooms have been renovated to feature new floors, new beds, and comfortable bedding. A continental breakfast is offered each morning, and guests can get coffee and tea during the day as well as a free newspaper.
Indoor heated pool is open from 9 AM to 10 PM daily.
View all 36 Hotels with Indoor Pool