Toronto, Canada: 4 Star Hotels
View all 22 4 Star Hotels

Toronto, Canada: 4 Star Hotels
Rating:





A beautiful, comfortable hotel located close to many of Toronto's most notable landmarks. Hilton Toronto is the perfect place to stay when on vacation as it is a mile from places like the CN Tower, the Air Canada Center, and Canada's Wonderland. The rooms at the Toronto Hilton come with TVs with cable and pay-per-view, coffee makers, and high-speed internet. Guests can also take advantage of the fitness center, continental breakfast, all day room service, the fitness center, and local area transportation.
Rating:





Delta Toronto is a Hotel by Marriott where you can experience top quality suites at an affordable price, Marriott members have an additional discount rate. Delta Toronto is a 4 Star Hotel it has amazing amenities and one of the guest favorites is the roof dinning restaurant it is very relaxing and very modern. Make your reservation now and enjoy waterfront panorama, restaurants, fitness center, pool and so much more only at one place and that is Delta in Toronto, Ontario you won't be disappointed!
Rating:





The Sheraton Centre Toronto is a 4 Star hotel that is the perfect place to stay for casual and business travelers. The hotel offers an indoor/outdoor pool, spa, complimentary hot breakfast for each registered guest, electric car chargers, meeting spaces, fitness center, restaurant and a cafe. There is about 1,400 rooms to choose from to accommodate your stay. The well-known Niagara Falls is only located about 2 miles away from the hotel and offers fun for all ages. If you are coming in to stay the check in is at 3:00 pm and check out is at 11:00 am.
Rating:





The Grand Hotel and Suites Toronto, ON is rated to be a four-star hotel because of the main attractions and amenities. The hotel provides an amazing view of the city from on top of the hotel, heated whirlpools on the rooftop, shuttle service gift shop, maid service, large fitness area, and a spa. The nearby attractions are the CN Tower and Hard Rock Cafe and many more activities in the surrounding area. Your room provides you with Free high-speed Internet, cable television, a kitchen, living area, and other great amenities to make your vacation as comfortable as possible.
Rating:





Customer Rating:





The four-star Hyatt Regency Toronto is near many attractions that Toronto has to offer. There are many amenities at this hotel, including an outdoor seasonal pool and a 24-hour fitness center. The hotel is a pet-friendly hotel that offers rooms available as suites. The rooms are luxurious and include an in-room coffee maker, iron, and much more. High-speed Internet is available for a nominal fee. Guests who stay here will be amazed at all of the luxurious accommodations the hotel has to offer. There are many dining options within 400 feet of the hotel. These dining options include local restaurants.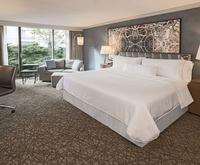 Rating:





The Westin Prince Toronto Hotel is a great four-star hotel to visit because of its amenities and the main attractions. The hotel provides luxurious fireplaces, huge fitness room, a spa, a pool, and meeting rooms for business. Nearby attractions are Niagara Falls Full-Day Tour, Niagara Falls Sightseeing Tour, Toronto City Tour, and The Toronto Inner Harbour & Island Boat Tour so there's plenty of activities to explore during your vacation. Your room provides you with dining areas, sofas, chairs, and you have the option to choose between the junior, executive, and penthouse suites.
View all 22 4 Star Hotels