Rio Grande Sunrise Flight

This activity is no longer available. Top related activities are listed below:
Description
Rio Grande Sunrise Flight Photos (1)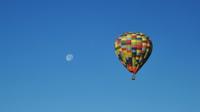 The Rio Grande Sunrise Flight is a specular sunrise hot air balloon ride which takes place in beautiful Taos New Mexico.
When traveling to Taos New Mexico to adventure on the Rio Grande Sunrise Flight you have to arrive at least 1 hour before sunrise and the Rio Grande Sunrise flight hot air balloon ride tour will last about 4 hours. You will meet up with The Rio Grande Sunrise Flight crew at the Farmhouse Café parking lot, which is the launch site.
Right before sunrise you will be swept away by a light wind which will carrying you up to the sky like a floating cloud. While floating from above there is a peace and tranquility that comes over you like never before. At sunrise you can marvel over the intense colors of the landscape with the beautiful blue sky as the background. Here is where you realize why this was once a longtime artist colony. Take a minute to breathe and enjoy the peaceful air while looking down at the wildlife, and historic multi-level adobe buildings where the Native Americans lived for centuries.
Taos New Mexico is so beautiful it's bounded by the Sangre de Cristo Mountains along with the high desert makes for a picturesque balloon ride. The family friendly experienced flight crew provides you with unforgettable pictures of your flight.
After your flight you will enjoy the post-flight champagne toast followed with a delicious light brunch.
What an unforgettable Ride!!
Our hot air balloon rides begin one hour before the sun rises. When you arrive at the launch site, the crew will lay the balloon out for cold inflation. Once Kevin has stood the balloon up, you will be invited on board for your pre-flight briefing and the adventure of a lifetime!

You'll ascend into the air and find the thrill of take-off replaced by the peacefulness of floating at the speed of the wind. Many people are surprised to find that there is no sense of motion or swaying in a balloon, since you are moving with the wind. Even people who profess a fear of heights find ballooning to be a peaceful experience. Kevin will point out any interesting landmarks and wildlife such as rabbits, deer, big horn sheep fox and coyotes that you may have the pleasure of spying from above. The crew will capture your flight on camera and provide you with your own picture files before you leave.

Once you have landed, you'll be regaled with the history of the post-flight champagne toast as you enjoy mimosas and a light brunch. The hot air balloon flight includes: Exquisite panoramas of the Taos Valley Post flight champagne and brunch Pictures of your flight, taken from our chase vehicles as they follow our adventure Great for gifts, adventures, birthdays, anniversaries, marriage proposals, holidays, family fun, corporate events, celebrations, sales incentives or just to cross it off your "bucket list"!

Pickup & Return:
Farmhouse Cafe parking lot.
All flight times are approximate and subject to change due to weather conditions and weight restrictions.
Includes:
Bottled water
Champagne brunch
Photos of your flight

Does not include:

Additional Information:
Confirmation will be received at time of booking
All passenger weights MUST be advised at time of booking. There is a 300 pound maximum.