Tampa Bay Area Hotels with Airport Shuttle
View all 9 Hotels with Airport Shuttle

Tampa Bay Area Hotels with Airport Shuttle
Rating:





Are tou worried about getting to the Hotel or to the airport? Well, don't be! Grand Hyatt in Tampa Bay, Florida offers shuttle service to their customers, this service takes you to the Gran Hyatt Hotel and from the Hotel to the airport, so you don't have to worry anymore our friendly drivers will help you out with your luggage and safely getting you to your destination. This shuttles depart every 15 minutes so your waiting time is very short.
Free shuttle to and from the airport.
Homewood Suites by Hilton Hotel has an airport shuttle to transport your belongings to the hotel and has amenities to accommodate your needs. The hotel provides you with an elliptical-shaped pool, an indoor fitness studio where you can do a variety of exercise, a hot breakfast, and a deck that's surrounded with beautiful palm trees with a fire pit. You can visit the main attractions in the area. Your room provides you with a flat-screen tv, cable, full kitchen that provides a microwave, dishwasher, refrigerator, and a coffee maker.
Airport shuttle available for a fee.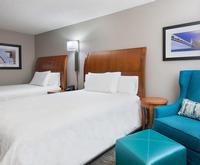 Hilton Garden Inn Tampa Airport Westshore offers a complimentary Airport shuttle to and from the airport for the convenience of all guests. Located close to the airport, the complimentary shuttle is just a short ride and offers guests a convenient and stress free transportation option. Eliminate the worry of figuring out public transit, renting a car, or hailing a taxi. No need to worry about not being able to find a seat on the shuttle as your seat is guaranteed and the friendly shuttle driver will make loading and unloading your luggage a snap.
Free shuttle to and from the airport.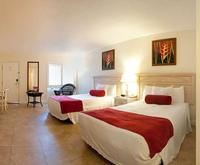 Rating:





Located just few minutes away from downtown the beautiful Tahitian Inn and Spa in Tampa Bay, Florida offers Airport shuttle just because they care about your vacation and your safety. This beautiful themed Hotel has a Coffee shop and spa to make your stay more enjoyable. Make your reservation now and enjoy shuttle service to the airport, our friendly guide will take you safely from the Hotel to the airport so you don't miss your flight, every shuttle can take up to 10 people per ride and have different schedules.
Free shuttle to and from the airport.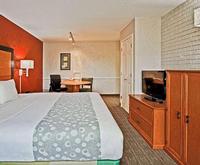 Rating:





The La Quinta Inn Tampa Bay offers a shuttle service for guests who are arriving from the airport or who need to get to the airport and don't want to take their vehicle. The shuttle is a spacious vehicle with heat and air for the comfort of passengers. A large outdoor pool is surrounded by a fence so that guests can swim in privacy. Rooms are equipped with microwaves and refrigerators. Each morning, guests can get a complimentary breakfast that includes waffles and biscuits.
Free shuttle to and from the airport.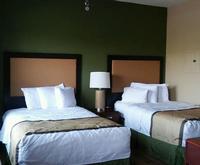 Extended Stay America in Tampa offers a shuttle to the airport for guests who are arriving or departing. The shuttle is spacious and offers plenty of room for several passengers and luggage. When guests stay at the hotel, they can enjoy a free breakfast each morning. Rooms have been updated to feature modern color themes and new appliances including refrigerators and microwaves. Free cable television is offered as well. An outdoor pool is surrounded by chairs along with a grill and picnic tables.
Free shuttle to and from the airport.
View all 9 Hotels with Airport Shuttle