Culinary Tours in St. Louis, MO

Experience the flavors of St. Louis, MO with one of the culinary tours in the area. You are bound to have an amazing time!
During this food tour, which lasts for three hours, you'll take a relaxing walk through the Central West End District, where you'll see beautiful landmarks and attractions; the tour also includes food sampling at a cafe and one of the area's best pubs.
Available 20 days between Sep 28, 2018 & Dec 1, 2018
View Schedule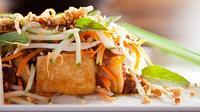 This Saint Louis Downtown Food Tour is known for its renowned cuisine. Unfortunately, most guests to Saint Louis do not know where to begin. This food tour is a two-hour food tour where you will experience the delectable cuisine of Saint Louis. Sample the foods of Saint Louis in its varied styles and flavors. This tour is a three hour and thirty-minute tour, so be advised if walking is an issue, you need to bring something to ride yourself on to keep up with the group.
Pickup and return are at the U.S. Bank Plaza located at the corner of Washington Avenue and Seventh Street. Everyone will meet together at Synergism, a stainless steel structure you won't be able to miss! Departure is at 11 AM.
Pricing includes food tasting, local guide, walking tour, and small-group tour. Pricing does not include alcoholic drinks or gratuities. Your confirmation issued after completing the booking process. All children have to have an adult present. A minimum of 3 people per booking and a maximum of 12 people per booking. Wear comfortable shoes because a considerable amount of walking is involved. This tour is not wheelchair accessible. This tour goes on as scheduled in all wheater conditions, advised to dress suitably according to weather conditions.
Tour last three and a half hours covering by foot a one and eighth-mile path of Saint Louis's most excellent eateries and restaurants. This tour includes the highest rated and most popular areas of Downtown Saint Louis. Enjoy superb cuisine from some of Saint Louis's most acclaimed chefs. On this tour, follow along with your included informative guidebook. Lastly, bring a hearty appetite, so you can enjoy all the excellent cuisine Saint Louis has to offer!
Pricing and schedule are currently unavailable.