Holly Jolly Nights of Lights Schedule

Activity lasts approximately 30 minutes.

3D Glasses, Hot Apple cider, and cookies are included.

Appropriate for All Ages

Handicap Accessible

Handicap Seating Options Available: Wheelchair Seating, Aisle Seating, Limited / No Stairs Seating

Both Cameras and Video Cameras are Permitted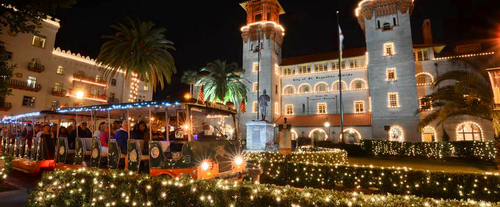 After guests are safely seated, the decorated trolley travels through the streets of St. Augustine. A guide gives details about the history of the area while guests are treated to the beautiful lights and decorations that are seen on houses and buildings in the city. Special glasses are given so that guests have a unique way of viewing the city at night.
Full Calendar
Book Now!