St Augustine Hop-On Hop-Off Trolley Tour

Description
St Augustine Hop-On Hop-Off Trolley Tour Photos (1)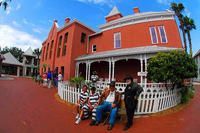 The St. Augustine hop on hop off tour is a great experience for everyone wanting to explore the area especially those free spirits who want to do their own thing instead of following a tour guide around. With the tour you can schedule it at any time you just have to buy the ticket before you get on the trolley to go around the town for the day. The ticket is good for the entire day that the trolley is running and you can get on or off as much as it is that you need. The tour is a great way to go and explore the area by yourself or with anyone that you have with you. With this experience there is no waiting on anyone else, and there is no tour guide. The trolley driver does talk about the history of the area and will answer any questions that you have to the best of their ability but that are the extent of it. The down side to the type of tour is that nothing is included if you want to go anywhere that has fees you are going to need to budget for that ahead of time and just keep that in mind. That also includes food as all of that is separate charges and the only thing that you get with the ticket is the trolley.
Sit back as the talented Old Town Trolley conductors share the history, attractions and sights of America's oldest city. Founded by Pedro Menendez de Aviles in 1565, St. Augustine is a unique city filled with colonial Spanish neighborhoods, magnificent buildings and a charm all its own. The one hour tour features 19 stops and over 100 points of interest.
See and Visit.. Fountain of Youth, Lightner Museum, Castillo de San Marcos, Ripley's "Believe it or Not", Flagler College, St. George Street, St Augustine's Oldest House, the Old Jail, Florida Heritage Museum and much more!
Tour at your own pace! Old Town Trolley Tours allows you to get off at any of their convenient stops situated close to all popular attractions, shops and restaurants. When you're ready, just re-board and it's on with the tour.
Additionally, the Old Town Trolley pass is good for admission to the Florida Heritage Museum and the St. Augustine Beach Bus with hourly shuttle service to St. Augustine Beach, Anastasia Island, and Downtown St. Augustine.
Best of all.. your Old Town Trolley pass is good for 3 consecutive days of unlimited use!
Book Now!