St Augustine, FL Haunted Ghost Activities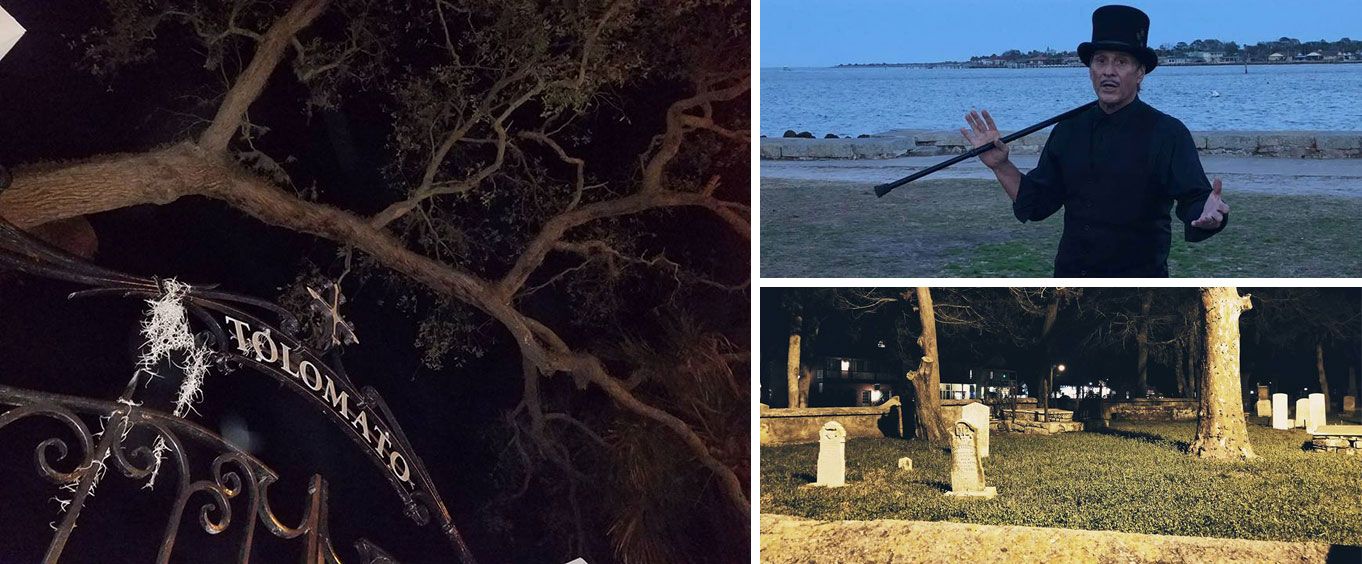 Florida with one of our haunted ghost activities. An activity like the Ghosts and Gravestones of St. Augustine will give you a chance to explore the possibilities of ghosts in the city. Make your reservations today!
St Augustine Haunted Ghost Activities
Grab your friends and expect the unexpected when you embark on this fun and informative Secrets of St. Augustine Ghost Tour! Known as the oldest city in North America, St. Augustine is rich in history, both good and bad. This guided walking tour with an informative guide will take you to some of St. Augustine's most notable buildings and sites for paranormal activity. Be enchanted at the Courtyard of the St. George Inn and the cemetery that lies within. Learn some of the histories of those that call this cemetery their final resting place and maybe even have the chance to see a spook or two! This walking tour lasts approximately one hour and a half, so please dress appropriately and wear proper shoes for your adventure. Haunted Ghost Activities are an exciting opportunity, so do not miss out.
Available 301 days between Dec 11 & Nov 30
Dec 10
N/A
Sold Out
Dec 13
N/A
Sold Out
Dec 15
N/A
Sold Out
Dec 23
N/A
Sold Out
Dec 24
N/A
Sold Out
>
Take a 90-minute tour through the dark streets of Old St. Augustine, a place that is rich in history. The guided tour starts at 8:30 pm and begins at the legendary Love Tree Cottage. Here, the first story is heard about eternal love, from there, individuals are guided through the streets to hear other haunting stories of ghostly legends. The tour also includes two cemeteries, linked heavily in the history of the area. This unique tour consists of one guided tour Sunday through Thursday and two taking place on Saturday and Friday. It is a walking tour so dress accordingly and wear comfortable shoes. It is ideal for all ages but remember it will end late in the evening. Haunted Ghost Activities offer unique fun so do not miss out.
Available 260 days between Dec 11 & Aug 31
Dec 14
8:00 PM
8:30 PM
9:00 PM
Dec 15
N/A
Sold Out
Dec 21
8:00 PM
8:30 PM
9:00 PM
Dec 22
N/A
Sold Out
Dec 24
N/A
Sold Out
Dec 25
N/A
Sold Out
Dec 28
8:00 PM
8:30 PM
9:00 PM
>
Explore some of the darker moments in St. Augustine's past when you book a "fright-seeing" Ghost and Gravestones Night Tour and experience ghosts first hand. Visit the old jail and Potter's Wax Museum Chamber of Horrors and see if you can talk with ghosts and spirits. Creepy legends and frightening ghost stories are synonymous with the museum and old jail. Haunted ghost activities are a unique way to experience the history of a city. For over 60 years, the old jail housed prisoners and is now home to some of the most supernatural occurrences in all of St. Augustine. The jail is listed on Florida's register of natural haunted places. A narrated bus tour will take you through the haunted history of St. Augustine's past.
Available 386 days between Dec 10 & Dec 31
Dec 24
N/A
Sold Out
Dec 25
N/A
Sold Out
>