Reserve Tickets to St Augustine, Florida Attractions Today
The interesting history of St Augustine, Florida can be found at many of its entertaining attractions, including the Florida Heritage Museum. Take a look at the entertainment options available and order tickets online today.

This attraction has Harry Potter in it and was thought up by a man with the last name Potter so that's pretty cool so when you come to the attraction be prepared to be amazed all all the characters here.
With The St. Augustine History Museum Admission you will get to learn all about the history of St. Augustine, you will learn how the city expanded under the Spanish, British, French and American rule and a lot of other facts.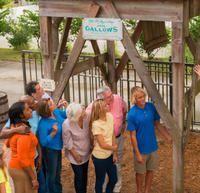 St Augustine's jail is one of the most interesting jails ever you can look the cells, the kitchen and the sheriff's quarter this jail has a lot of history come and see it for yourself in Florida.
Come and visit the World Golf Hall of Fame Museum and learn more about the history and spectacular exhibits that this place provides, you also get a chance to try the Hole challenge and many other activities in St. Augustine, Florida.
Available 308 days between Jul 26, 2018 & May 31, 2019
View Schedule
Jul 27
11:00 AM
1:00 PM
3:00 PM
Jul 28
11:00 AM
1:00 PM
3:00 PM
Jul 30
11:00 AM
1:00 PM
3:00 PM
Jul 31
11:00 AM
1:00 PM
3:00 PM
Aug 01
11:00 AM
11:00 AM
11:00 AM
Aug 02
11:00 AM
11:00 AM
11:00 AM
>
There is a chance for you to book one of the attractions that are available for those who want to see what it is like to tour and find the best places to have fun with your spouse who loves museums and historical monuments.
Available 159 days between Jul 23, 2018 & Apr 30, 2019
View Schedule
Numerous exhibits await at Ripley's, some that will boggle the mind while others are simply too odd to be explained, such as a tunnel that features bright lights and motion as well as a few other surprises.
Available 160 days between Jul 23, 2018 & May 31, 2019
View Schedule
Watch as actors bring the oldest store to life, showing products sold in the store and talking with customers as though it's still the turn of the century instead of modern ages.
There are times where you want to have fun and adventures in your life where you want to invite your friends from college to see how smart they are while taking a tour through a place like the Colonial Quarter Museum which is located in Saint Augustine, Florida.
Pricing and schedule are currently unavailable.