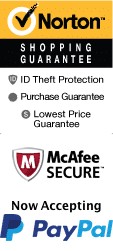 Potter's Wax Museum
31 Orange Street St. Augustine, FL 32084
1-800-987-9852
Chat Now
Located in the heart of the historic St. Augustine, Potter's Wax Museum is an experience that is sure to leave you feeling spellbound. The museum has a fascinating collection of more than 160 figures depicting famous personalities, celebrities, and historical figures from around the globe. It is one of the oldest wax museums in the country and boasts lifelike figures that will have you doing a double-take.
About the Museum

As you enter Potter's Wax Museum, you will be greeted by a host of wax figures, including celebrities, politicians, and historical icons. Take selfies with Hollywood stars such as Tom Hanks and Johnny Depp or pay homage to music legends like Elvis Presley and Jimi Hendrix. The museum prides itself on bringing history to life, with impressive depictions of important historical figures such as John F. Kennedy, Albert Einstein, and even Julius Caesar.
The museum provides a self-guided tour, but the figures are placed in such a way that they guide visitors to follow a particular path. The tour takes about an hour, but you can spend as much time as you like examining the figures up close. Additionally, the museum is air-conditioned, providing a relief from the Florida heat.
Potter's Wax Museum has ample educational value as each figure has a plaque displaying interesting facts and stories about them. The museum has been educating visitors for over 70 years, and it is apparent in the quality of their exhibits and attention to detail. Furthermore, the museum offers a unique experience by arranging the figures in local and national scenes, immersing visitors in a different time and place. In addition to the wax figures, the museum also features an on-site gift shop selling souvenirs, including miniature wax figures and other memorabilia. The museum provides a unique experience that appeals to visitors of all ages and offers discounts for seniors and military personnel.
Potter's Wax Museum in St. Augustine is an extraordinary artistic and historical marvel, allowing visitors to get up close and personal with celebrities and historical figures like never before. Explore the lifelike, meticulously crafted wax figures and learn about the fascinating people they portray. Whether you are a history buff, celebrity enthusiast, or just looking for a unique experience, Potter's Wax Museum should not be missed.
Frequently Asked Questions for Potter's Wax Museum:
Approximately how long could a customer plan to spend at Potter's Wax Museum?

Most people spend about an hour at the museum.

Is Potter's Wax Museum handicap accessible?

Yes.

Is photography & video recording allowed?

Of course! Don't forget your cameras.

For what ages is Potter's Wax Museum appropriate?

It's appropriate for all ages.

Is parking available at Potter's Wax Museum?

Yes, free parking is available at the location.
Book Now!