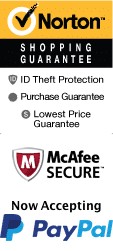 Medieval Torture Museum
100 Saint George St St. Augustine, FL 32084
1-800-987-9852
Chat Now
Step back in time and immerse yourself in a dark and twisted period of history at the Medieval Torture Museum in St. Augustine, FL. This unique attraction allows visitors to explore the macabre methods used to inflict pain and punishment on prisoners during the Middle Ages. With over 40 exhibits featuring real torture devices and informative displays, the museum provides a chilling glimpse into humanity's dark past.

Upon entering the museum, guests are transported to a time where pain and violence were common methods of punishment. Explore the museum's diverse collection of exhibits, including a 400-year-old spiked chair, a skull breaker, and an iron maiden. As you walk through the museum, you'll learn about the history and origins of each device and discover how they were used to extract confessions, punish criminals, and control the masses.

Visitors typically spend approximately 45 minutes to an hour exploring the museum's exhibits. As you walk through the darkened rooms, you can feel the weight of history and the fear that must have gripped those who were imprisoned and tortured in the past. The museum is located in the heart of St. Augustine's historic district and is easily accessible by foot.

For those seeking a unique and educational experience, the Medieval Torture Museum is a must-visit attraction. Take a guided tour or explore at your own pace to learn about the brutal methods used in the past. Wear comfortable shoes and dress appropriately for the weather, as the museum is not climate-controlled.

If you're looking for an activity that's outside the norm, plan a visit to the Medieval Torture Museum. With its historical significance and unique subject matter, it's an experience that's equal parts chilling and informative. Don't miss out on this chance to explore humanity's darker side. Visit the Medieval Torture Museum in St. Augustine and discover the secrets of the past.
Frequently Asked Questions for Medieval Torture Museum:
Approximately how long could a customer plan to spend at Medieval Torture Museum?

Guests usually spend a couple hours exploring the museum.

Is Medieval Torture Museum handicap accessible?

Yes.

Is photography & video recording allowed?

Yes.
Book Now!