South Padre Island Hotels with Hot Tub/Whirlpool
View all 12 Hotels with Hot Tub / Whirlpool
Return from an afternoon of dolphin-watching and fun activities to unwind in a hot tub. Stick your feet in, or sink down on the seat and let the steaming water wash any tension away. If you're looking for a hotel that provides you with comfort and luxury, then one of these South Padre Island options are for you.

South Padre Island Hotels with Hot Tub/Whirlpool

Rating:





Enjoy your getaway at the Comfort Suites Hotel where there are attractions to keep you busy during your visit. There are beaches and tennis courts where you can play a few games and it's just minutes away from the hotel. Relax in the hot tub to put your mind at ease. The hotel also has free breakfast, fitness center, laundry center, and in your room, you can enjoy watching cable tv, make coffee, store snacks in your refrigerator, and other basic amenities during your stay.
Outdoor Hot Tub is open from 8 AM to 11 PM daily.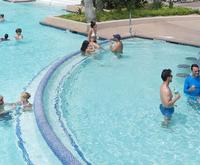 Rating:





You're choosing the right place visiting the Pearl South Padre Hotel because of the gorgeous hot tub with the swim-up bar. The hotel has a full spa service, bar, indoor and outdoor pool, a children's camp, and a beautiful view of the Gulf of Mexico. There's never going to be one boring day with all the attractions in the surrounding area which is The Texas Clipper and Sunrise Mall where you can purchase the latest trends. Your room amenities are a full kitchen, patio, cable tv, microwave, wet bar, and so much more.
Outdoor Hot Tub is open from 8 AM to midnight daily.

Rating:





Located in South Padre Island, TX, Travelodge South Padre Island is the perfect beach front vacation spot. The guest rooms are spacious and cozy, which include kitchenettes that are available upon request, comfortable plush mattresses, a microwave and refrigerator. The first thing that stands out while walking inside this lavish hotel is the many fun and family friendly activities on the premises. Enjoy playing ball on the basketball courts, a game of shuffleboard, the large fitness center with an indoor pool, an outdoor pool, a relaxing whirlpool hot tub and a sandy beach that is just steps away.
Outdoor Hot Tub is open from 7 AM to 10 PM daily.

Rating:





The Padre South Hotel on the Beach is located on South Padre Island, less than two miles from the Schlitterbahn Beach Water Park. An in-room refrigerator, an on-site restaurant, a voice mail, a washer/dryer facility, an outdoor pool, a hairdryer, free parking, an in-room microwave, a meeting facility, free local calling, an iron, an ironing board, a complimentary newspaper, an in-room coffee maker, a hot tub, an on-site beach, an arcade/game room, and free Wi-Fi are all things that guests can choose to enjoy during their stay.
Outdoor Hot Tub is open from 7 AM to 11 PM daily.

Rating:





The La Copa Inn Beach Hotel can be found on South Padre Island, which puts it a very short drive from the Schlitterbahn Water Park. Room service, hot tub, free Wi-Fi, on-site restaurant, refrigerator, free parking, outdoor pool, fitness center, business center, microwave, kid's program, on-site beach, bar or lounge, on-site gift shop, and in-room coffee maker are some of the many things that are offered in order to make the guests of this hotel have the best possible stay.
Indoor Hot Tub is open from 7 AM to 10 PM daily.
South Padre Island is a beautiful place with sun, water, and relaxation. When you arrive to make sure to book your stay at Suites at Sunchase. It is apart of the Ascend Collection Hotel and offers Free Wi-FI, breakfast, Valet parking, outdoor heated pool and hot tubs in the suites. The hotel is nearby the family-friendly Schlitterbahn water park where the water rides keep the hot sun at bay. Some of the great activities you can book nearby are the Dolphin Watch Eco Tour of South Padre Island, Water Bike Rental on South Padre Island. You should also make sure to stop at the Sea Turtle Inc. where you can see all the turtles in rehabilitation before they are released back into the ocean.
Outdoor Hot Tub
View all 12 Hotels with Hot Tub / Whirlpool