Sedona Hotels with an Outdoor Pool
View all 19 Hotels with Outdoor Pool
Enjoy the excellent Sedona, AZ summer weather at one of these hotels. An outdoor pool provides entertainment for both adults and children at a convenient, on-site location.
Sedona Hotels with an Outdoor Pool
The La Quinta Inn Sedona / Village of Oak Creek features an outdoor pool that guests can enjoy when the weather is warm during the year. A rock formation at one end of the pool has a waterfall that guests can swim under. There is also a sprinkler feature in the shallow end of the pool. Guests will discover that the pool is heated for added comfort. Breakfast is served each morning before guests explore the city or begin other activities.
Outdoor heated pool is open from 8 AM to 10 PM daily.
When travelers think of outdoor pools, they tend to think of standard outdoor hotel pools. Nice but nothing extraordinary. This cannot be said about the pool that the Hilton Sedona Resort & Spa - Ridge Trail Drive offers to lucky guests. What makes the pool so special? It is the fact that it is a full-size lap pool. This type of pool is great for a before or after excursion at the lighted tennis courts. The sleepscape is raved about by guests as well.
Outdoor heated pool and hot tub is open from 6 AM to 11 PM daily.

Rating:





Located in Sedona, Arizona, a stay at the Hampton Inn Sedona is the perfect spot when looking to book a hotel with an outdoor pool. Hotel amenities include a fitness center and a business center, free hot breakfast, a large meeting room as well as free parking and high speed internet. The rooms offer guests cable television, internet, and coffee maker with microwaves and refrigerators being available. Nearby attractions include the Touch the Earth Vortex Tour and the Wrangler Round-Up with Coyote Canyons Tour. When hungry, guests can dine at nearby restaurants like Dahl and DiLuca, Javelina Cantina, and Shugrues Hillside Grill.
Outdoor pool

Rating:





Los Abrigados Resort & Spa has a year round salt water pool and hot tub. The seasonal pool has a concession stand and bar for warmer weather. Workouts at the fitness center and stop at the spa for a massage. One bedroom units and two bedroom units come with a kitchen. Dine at the Spoke and Wheel with sandwiches, burgers, steak, chicken, pasta, pizza, beer, wine and cocktails. Timo Wood Oven Wine Bar is open on weekends for dinner. The resort has a game room, children's club, mini golf, tennis court, horseback riding, and pool table.
Outdoor pool and hot tub is open from 9 AM to 10 PM daily.
This hotel is located in Eastern Sedona with spectacular views of the hills around the area and you get access to up beautiful and large outdoor pool where you can swim, relax and enjoy yourself while soaking up the sun and having a blast. While you are relaxing outside by the outdoor pool you get access to a high-speed complimentary Wi-Fi service that allows you to browse the Internet at fast speeds and you never have to worry about data limits are something else preventing you from getting online. After you are finished, go back to your room and enjoy watching a large LED screen.
Outdoor heated pool and hot tub is open from 7 AM to 10 PM daily.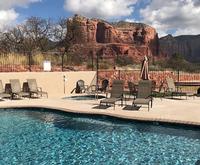 Rating:





A relaxing outdoor pool and great location are just two of the highlights of Red Agave Resort. This Sedona-based resort is within easy driving distance of major area attractions including Bell Rock, which is just a mile away. Accommodations range from simple studios to bi-level chalets that can sleep five people at this pet-friendly resort; all offer complimentary WiFi, flat-screen TVs, and comfortable furnishings. In addition to the outdoor pool located in the resort's landscaped courtyard, there are two hot tubs, gas grills, fire pit, and laundry facilities available.
Outdoor heated pool and hot tub is open from 8 AM to 10 PM daily.
View all 19 Hotels with Outdoor Pool