Sedona Hotels with a Hot Tub or Whirlpool
View all 10 Hotels with Hot Tub / Whirlpool
Take self-pampering to the next level with these Sedona, AZ hotels, all of which offer a hot tub or whirlpool that will lull you into a state of utter relaxation. Imagine taking a dip in the steamy water and letting go of your worries and woes on your next vacation.

Sedona Hotels with a Hot Tub or Whirlpool
The Arroyo Pinion Hotel is located in Sedona and if you're looking for a hot tub, then this is the place to be because the hot tub is outside on the deck with umbrella tables and beach chairs where you can get the perfect tan. The hotel offers great amenities which are outdoor pool, fitness center, laundry center, high-speed internet, free breakfast, and other great amenities. You're also near some great restaurants which are the Relics Restaurant and Cafe Jose Restaurant. Your room will be equipped with cable TV, plasma HDTV, alarm clocks, iron and ironing boards, and more.
Outdoor Hot Tub is open from 9 AM to 10 PM daily.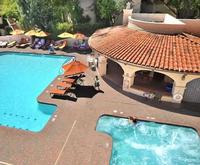 Rating:





Los Abrigados Resort & Spa features a large outdoor pool and a hot tub that guests can relax in when they aren't exploring the city or enjoying some of the other amenities that are offered by the hotel. Several lounge chairs and tables surround the pool and hot tub. Guests can easily change the hot tub's temperature depending on how high or low they want it before getting into the water. A restaurant is located on the property as well as a fitness center and a spa.
Outdoor Hot Tub is open from 7 AM to 10 PM daily.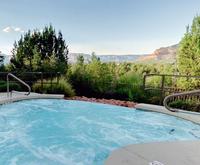 Rating:





Sedona Summit Resort is a spacious hotel that offers several amenities for guests, including a large hot tub located outdoors. While guests are in the tub, they can view the trees and mountains in the distance as well as the outdoor pool. Hammocks are also located outside for guests to relax in when they aren't exploring the city. Rooms in the hotel feature many of the comforts of home including a microwave, refrigerator, alarm clock, and free Wi-Fi and cable television services.
Outdoor Hot Tub is open from 7 AM to 10 PM daily.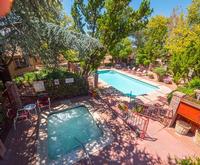 Rating:





Sky Ranch Lodge offers beautiful views for guests to enjoy as well as a hot tub located outside near the sparkling pool. While guests are relaxing in the warm water of the hot tub, they can view the Sedona mountains in the distance. Benches are positioned across the property so that guests have access to a few different views while they are at the hotel. Free Wi-Fi is available across the property, and cable television is offered in all of the rooms.
Outdoor Hot Tub is open from 8 AM to 10 PM daily.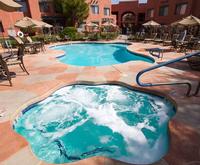 Rating:





The Bell Rock Inn is near one of the major interstates in Sedona, Arizona. It is far enough away from civilization that one does not need to worry about the crowds that come into town. But, it is also close enough to the culture that guests can enjoy many activities near the hotel. The hotel has two outdoor pools that are heated. Guests will enjoy the free high-speed Internet, the microwave, the refrigerator, fireplace, and many more amenities in their room. There are many restaurants within 5 miles of this hotel. Guests will enjoy their stay in Arizona when they stay at the Bell Rock Inn.
Indoor Hot Tub is open from 8 AM to 10 PM daily.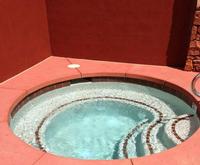 Rating:





The Las Posadas of Sedona has an outdoor whirlpool that guests can enjoy at any time. Guests can adjust the temperature so that they are comfortable while they enjoy the fresh air and the views of the city. A concrete wall painted brown for a warm and welcoming feeling surrounds the pool and whirlpool. Free breakfast is served each morning, and there is a snack served in the afternoon. Massages are offered in the rooms, and there are yoga classes offered outside and in the fitness center.
Outdoor Hot Tub is open from 8 AM to 10 PM daily.
View all 10 Hotels with Hot Tub / Whirlpool