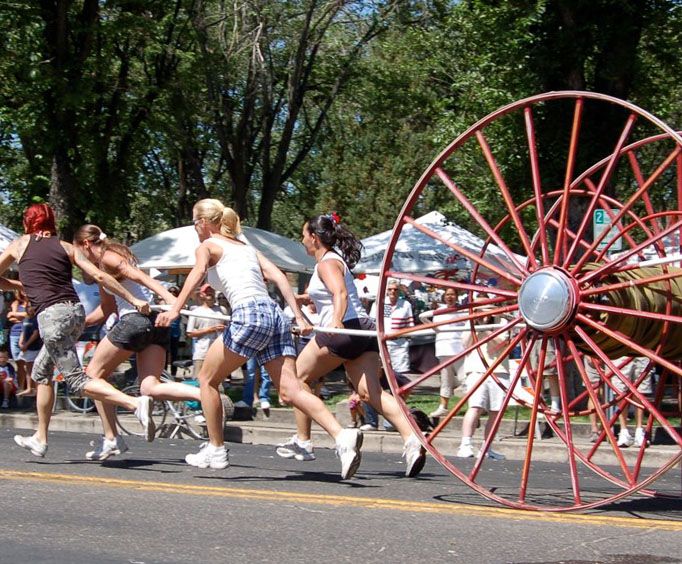 Prescott Frontier Days near Sedona, AZ
120 S Cortez St Prescott, AZ 86303
Prescott Frontier Days, located near Sedona, Arizona, is billed as 'The World's Oldest Rodeo.' This event is usually around the week of the Fourth of July. Eight to nine performances are scheduled at the Prescott Rodeo Grounds, roughly two miles from downtown Prescott. Events at this famous rodeo include bull riding, steer wrestling, saddle bronc, team roping, and barrel racing.
Prescott Frontier Days is one of the biggest events of the year for the city dubbed 'Everybody's Hometown.' Rodeo performers from all over the United States come to Prescott to participate. Of course, there are also many other activities connected to Frontier Days, including the annual Fourth of July Parade in downtown, the rodeo dance, the Kiwanis Kiddie Parade, the Cowboy Church, the Happy Hearts Rodeo for exceptional children, and the arts and crafts festival on the Courthouse Square downtown. Prescott Frontier Days concludes with the crowning of the Rodeo Queen.
Prescott Frontier Days got its start before Arizona was officially made a state, thanks to a group of local merchants. The rodeo continued growing year after year, not only audience-wise but also in the amount of cash prizes awarded and the number of events. Numerous celebrities have attended or taken part in this historic event. Even silent movie star Tom Mix participated in the Prescott Frontier Days rodeo once.
Capture the feel of the West and enjoy the many other activities during the week long Prescott Frontier Days, just 70 miles from Sedona. Visitors can also explore the shops and restaurants in Downtown Prescott. Other excursions to take around Prescott include Heritage Park Zoo, the Prescott National Forest, Watson and Willow Lakes, and Thumb Butte.
Create Your Custom Package
Points of Interest