Top 10 Sedona Tours in 2018

With 10 tours to choose from, you'll have no problem setting up a knowledgeable and scenic event in your vacation itinerary. Take out your camera to take pictures of the enormous rock formations jutting into the sky, or you can see some of the historical landmarks.
Top 10 Sedona Tours in 2018
See the most popular red rock formations of the Southwest desert of Sedona like Bear Mountain, Doe Mesa, Thunder Mountain, and Boynton Canyon as your tour guide gives you trivia and narrations of the terrain and local wildlife, as well as the origins and history of the formations and landmarks you will see. Be sure to bring your camera, as the panoramic views will be available non-stop, and will change throughout your tour.
Pricing and schedule are currently unavailable.
Travel into Navajo Country and see landmarks like The Painted Desert, The North Window, Rain-God Mesa and more while learning about the people that inhabit this enchanted landscape and their history, culture, and customs. Visit Monument Valley Tribal Park and be treated to the remarkable views of red rock formations that have inspired thousands, from Navajo Medicine Men to Hollywood directors over the years.
Pricing and schedule are currently unavailable.
Want more information regarding Top 10 Sedona Tours in 2018?
Get an unforgettable view of the Grand Canyon and Colorado River at Desert View on this amazing deluxe tour, and climb to the top of the Watchtower Observatory for even more magnificent panoramic views of the canyon before making your way along the rim of the canyon and making a stop at Grandview Point. This point offers breathtaking views of both the Colorado River Gorge and the butte-filled views that are famous in the East and South Rims.
Pricing and schedule are currently unavailable.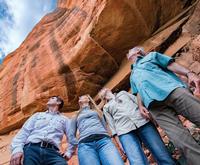 Visit a 700 year old Sinaguan cliff dwelling ruin called the Honanki Heritage Site and navigate through the site, taking in the size of the dwelling as well as the creativity of the pictographs and petroglyphs that decorated the walls of the ancient homes. Try to spot the burn marks on some of the stones, where a portion of the dwelling was burnt down and re-built into new rooms.
Pricing and schedule are currently unavailable.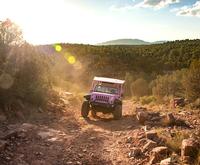 Seated in a comfortable open-air Pink Jeep, you will trek past popular and famous formations that include Lizard Head Rock and Thunder Mountain, and hear trivia and history of the area and terrain from your experienced tour guide. You will travel through the Greasy Spoon and Sidewinder Trails, and experience breathtaking views of the foothills of Jerome and Mingus Mountain.
Pricing and schedule are currently unavailable.
Enjoy the best of two tours and visit sites that include a historic trail once traveled by General George Crook during the Apache campaign in 1871, see Apache's Seven Pools, set foot on the Jordan, Teacup, or Thompson Trail and relive what it was like to be a Pioneer long ago, climb along Schnebly Hill Road in your tour vehicle and see numerous other sites to keep you entertained and informed as you are guided by a knowledgeable tour guide. This is an amazing historic tour, and is perfect for the history lover in your family!
Pricing and schedule are currently unavailable.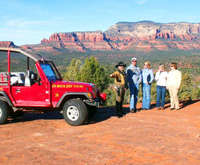 On this beautiful combination tour, you will visit sites like the Chapel of the Holy Cross, Oak Creek Canyon, Cathedral Rock, Spiritual Vortex sites, and Wilson Canyon as well as Bell Rock, scenic vistas, Courthouse Butte, Gallery Row and Tlaquepaque. Learn the story behind Sedona's setting and other informative trivia from a seasoned tour guide that will keep you intrigued and entertained throughout your tour.
Pricing and schedule are currently unavailable.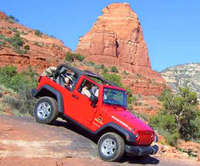 Tour some of Sedona's main "Vortices" while learning the meaning of the word "vortices", as well as terms like "medicine ground" and "sacred earth" and the significance of the areas that contain Vortices as well as the mystery behind them. These metaphysical phenomenon are said to be "as old as the Earth itself", so you won't want to miss this informational experience!
Pricing and schedule are currently unavailable.
Climb along Schnebly Hill Road and through Bear Wallow Canyon and enjoy stunning views of Oak Creek Canyon 2,000ft below your feet and either Munds Wagon Trail or Huckaby Trail while listening to stories of early pioneers in Sedona. You will see breathtaking panoramic views of Sedona and various red rock formations while on this amazing tour through Bear Wallow Canyon.
Pricing and schedule are currently unavailable.
Journey to the Dry Creek Basin, passing breathtaking red rock formations surrounded by seven different canyons before delving into the basin with your expert guide who will narrate the formations and sights you pass, as well as telling you stories about cowboys of old at the Van Derin cabin. You will hear "tales of murder and moonshine" as you relive the lives of the cowboys that once used the cabin.
Pricing and schedule are currently unavailable.

Activities