Sedona Spectacular Vortex Tour

Description
Sedona Spectacular Vortex Tour Photos (1)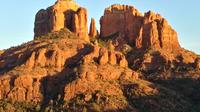 The Sedona Spectacular Vortex tour is rated among the best in bike tours which is why I'm going to give this tour a chance. It's flexible and something fun to do and it can be done in the morning or afternoon time the choice is up to me.
There is something magical about the city of Sedona and all of its wonderful scenery. There has been a mystical well-known energy for more than thousands of years. The land in the vortex has been very sacred for many years. There have been many ceremonies performed here over the land.
The main part of the vortex has been a fan favorite for years. Photographers love to come here to explore and take pictures of all of the landmarks. I'm going to enjoy riding my bike on the rocks of the Sedona vortex and going to be a great delight.
This is really a very historical place to come for a hike and bike riding it offers so much to be seen and has something for everyone to see and explore. The tour can be planned by me and customized to my liking it'll be fun to plan my own adventure.
Fun is certainly waiting for me on the Sedona spectacular vortex tour from hiking to bike riding and learning about the culture and the history of the area I know I'm going to leave full and happy with everything that I did on the tour.
Sedona carries a magical, mysterious energy that has been acknowledged for 1,000's of years by many different people who have lived on the land or visited Sedona. Multiple tribes of Native Americans didn't use the term "Vortex" but felt that the land here was very sacred. Many ceremonies have been performed here to bring the energies of peace, love, clarity, and much more. As visitors come to Sedona they are looking to find the mysterious vortex energies, find their peace, and connect to the earth. In 1980's - 4 energy areas were called the "Vortex" and labeled with Paige Bryant's work. The Bell Rock, Cathedral, (Chapel), Airport, & Boynton Canyon Vista are on National Forest land. There are many minor energy spots unlabeled, are locally connected vortexes to Sedona, and many sacred private & public places also that are powerful to see.

These main vortexes have been a point of interest for people from all over the world. Each day the land welcomes many tourists on their journey to discover the energy, to hike & bike the red rocks, see the history, be in the nature, and more. Photographers and painters come to capture the landscape that was formed from oceans flowing through and wind vortexes sculpturing the land. The beauty is amazing.
Our tours will include going on the National Forest Land in Sedona. We carry National Forest permits to go to vortex & energy places around Sedona. The tour locations are planned by you and the guide to customize a personalized tour. The amount of places depends on how long we stay at each site. As we travel between the vortexes, there will be a narration of the geology, history, energies, and much more. Explanation of many theories of vortexes and other ideas of Sedona will be discussed. The most popular tours are 3-4 hour.


Pickup & Return:
Aligning Light Store or your local lodging location in Sedona.
Return to same location of departure.
Departure Times: Please confirm with local operator after booking.
Hotel pickups commence prior to this time, you must contact the local service provider to verify your exact pickup time.
Times are subject to change due to local traffic conditions.
Includes:
Hotel pickup and drop-off included in Sedona, AZ area
Experienced guide
Commercial Permits from the Coconino National Forest
Transportation
Water and other items for the weather available to use
Passes, permits, and fees included

Does not include:

Additional Information:
Confirmation will be received at time of booking
Operates in all weather conditions, please dress appropriately
Subject to favorable weather conditions.
If canceled due to poor weather, you will be given the option of an alternative date or full refund
Sedona Spectacular Vortex Tour: Vortex Tour 3 Hours for 2
Vortex Tour for 2 people for 3 hr. 2-3 Vortex locations and much more. History, Geology, and more discussed.
Sedona Spectacular Vortex Tour: Vortex Tour 2 Hours for 2
Vortex Tour for 2 people for 2 hr. 1-2 Vortex locations & tour of Sedona's Energy, History, Geology, and more discussed.
Sedona Spectacular Vortex Tour: Vortex Tour 4 Hours for 1
Vortex Tour for 1 person for 4 hr. 3-4 Vortex locations and a tour through Sedona, Energy, History, Geology, and more discussed. Variety of tour times and prices.
Book Now!