Sedona Soul Retreat, a 3-Day Get-Away to Taking Back Your Power, MeTooTimesUp

Description
Sedona Soul Retreat, a 3-Day Get-Away to Taking Back Your Power, MeTooTimesUp Photos (1)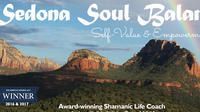 The Sedona Soul retreat in Sedona Arizona is going to be breathtaking and relaxing. It will be three days of downtime which there isn't anything to do there but relax and enjoy myself which means I'll be catered to like a queen which is exactly what I need.
For the whole three days at the Sedona Soul retreat, I'll be pampered and made to special. On the first day, the day will begin by taking a tour of the whole place and getting to know about everything that we'll get to do while we're there. There will be sage cleaning and drum beating.
The second day will start with me doing a wisdom card reading ritual followed by an energy healing meditation, smudging, and in the afternoon there will a shamanic life coaching ceremony that will provide me with the tools to own my power and stand up for myself.
On day three there will be more smudging and clearing, action plan, summation, and the closing ceremony which will allow us to set up upcoming appointments. Everything about this retreat is going to be for my own empowerment and to help me become a better person.
I know that I will leave this place feeling like a brand new improved person ready to face the daily struggles and challenges of my life. This tour may only last three days but I will carry the things I learn for the rest of my life.
Arival Day- helping you to relax with a free massage that can be arranged for you in your hotel room.
Day 1- begins at 10am with a Sightseeing Tour of the Soul / Assessment, Setting of Intentions for the Retreat, and Drumming — Smudging — Sage clearing. The afternoon is filled with individualized Shamanic Life Coaching, Soul Balance , reprogramming of Habits and Patterns. Evening hour are for reflection, workbook activities and manifesting new impressions.
Day 2- 10:00am starts with a Native Wisdom Card Reading followed by smudging, Energy Healing meditation. The afternoon continues with Shamanic Life Coaching (weather permitting at a Native Ruin); focus is gaining the tools to stand in your own power, to speak your truth, and to stand up for your beliefs by ditching guilt, blame, shame. Get ready to say 'hello' to your new YOU!
Day 3- at 10:00 am smudging/clearing, Summation and Action Plan, schedule for follow up sessions (skype), Closing Ceremony.

Note: the sequence of activities may vary and is designed to the needs of the individual.
Three Days Include: National Park Fees, free massage, 2 books by award-winning author Anke Otto-Wolf 'Give Your soul a Gift' and 'The Essentials to Self-Empowerment'
Not included: accommodations, meals, tipping
Pickup & Return:
Departure is the hotel in Sedona.
Return location is the hotel in Sedona.
Departure Times: Each Day at 10:00AM (adjustments are available) at the hotel

Includes:
National Park fees
Viator brokerage fee
2 Books
1 Massage
Bottled water
All activities
Driver/guide
Local guide
Professional guide
Hotel drop-off
Hotel pickup
Transport by private vehicle

Does not include:
Food and drinks
Lunch
Gratuities (recommended)

Additional Information:
Confirmation will be received at time of booking
Dress code is smart casual
Dress in layers
A small amount of walking is involved
Operates in all weather conditions, please dress appropriately
Sneakers
Book Now!