Sedona Medicine Wheel Journeys

Description
Sedona Medicine Wheel Journeys Photos (1)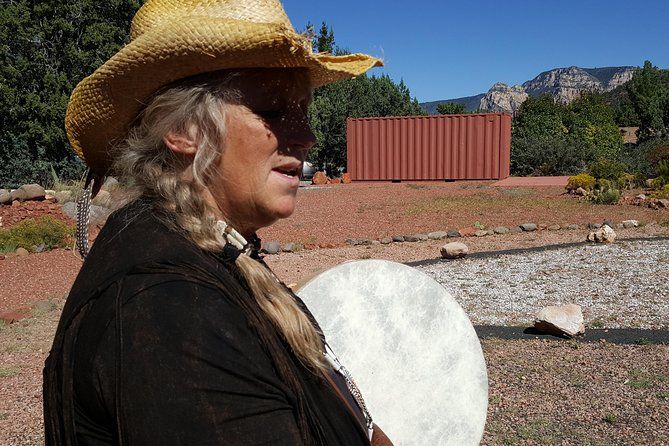 Meet your guide in West Sedona at a Lakota Medicine Wheel. Your 2-hour Medicine Wheel Ceremony will include setting intentions, blessings, smudging, calling in guidance, teaching of the stones, various processes, releasing of the old and seeing the new ways. Rattles, drum, water, and blessings will be included. Follow the ways of the ancient ones and be open to shifting. Dress for the weather and wear a hat.

Led by a Cherokee grandmother your ceremony will be very personalized to your intentions and for the Gratitude for Life's Gifts and Journey. Find your birth animal totem and exchange with the stones of the wheel. Each stone is connected to an animal, plant, mineral, intention, and purpose. You will learn about the Medicine Wheel and Create a life-changing experience.
You will utilize a local Lakota Medicine Wheel to set new intentions, blessings and prayers, calling in the guardians, processes, and ceremonies to create miracles and life-changing opportunities. You will be led through the teachings of the stones, journey through the 'Sacred Hoop of Life,' and find interconnections of your life.
The Medicine Wheel is a Native American Symbol of the 'Sacred Hoop of Life'. The 'Medicine' is the vital power or force that is inherent in nature itself, and to the personal power within oneself. The Wheel is used as a guide to help you find your way and ground you when you embark on inner journeys. You can use it to understand ourselves as well as life itself. It can be used to find direction in life and for aligning physical, mental, emotional and spiritual realities. You can use it to attune yourself to earth influences and forces and to the natural energies that affect your life.
It is a circle which represents natural and personal powers in complete balance, and which shows that everything is interconnected and part of one cosmic whole. It is the circle of awareness of the individual self, and a circle of knowledge that gives you power over your life. The directions can be charted on a circular map, the Medicine Wheel, which can enable you to come into alignment with these spiritual powers and absorb something from them.
Each direction on the Wheel constitutes a path of self-realization and self-initiation into the mysteries of life which can lead you to the very core of your being where you can make contact with your own High Self (your Spiritual Self or True Self). As you connect the directions together, there will be a variety of processes done. Each path can help you to acquire the knowledge to work changes that will put meaning and purpose into your life, bringing enlightenment and fulfillment. Walking within the wheel is going within ourselves to gather gifts and strengths.

No words can really describe the experience.

Pickup & Return:
West Sedona

*Call after booking to make arrangements for hotel pick up within Sedona.
Returned to original departure location.

Includes:
Experienced Professional guide
Grandmother Toltec Wisdom
Lakota Medicine Wheel
Birth Animal Totems
Directions, Cycles, and Processes
Sage and herbs
Drums and Rattles

Does not include:

Additional Information:
Confirmation will be received at time of booking
A small amount of walking is involved
Operates in all weather conditions, please dress appropriately
Sedona Medicine Wheel Journeys: Mw Teachings & Clearing Cere.
The Medicine Wheel Teaching covers information about the Stones, Directions, Spirit Paths, Creation, Processes, and Cycles in 2 hr
Sedona Medicine Wheel Journeys: Mw Teaching 2 Hr
Medicine Wheel Teaching for 2 hr
Sedona Medicine Wheel Journeys: Mw T & Ceremony W/Vortex 3 Hr
This Medicine Wheel Ceremony will include the teaching, then doing a ceremony with the wheel. Wonderful Experience of going through the journey of the ceremony. Then 1-2 Vortex location added
Sedona Medicine Wheel Journeys: Spirit Journey& Mw 4 Hr
This is a combination of Medicine Wheel Ceremony, teachings, and spiritual journey to other Medicine Wheels or Vortexes. Great combination. 2-3 vortexes
Book Now!