Sedona Helicopter Tour: Red Rocks and Chapel of the Holy Cross

Description
Sedona Helicopter Tour: Red Rocks and Chapel of the Holy Cross Photos (1)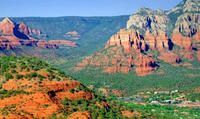 The Sedona Helicopter tour of Red Rocks and Chapel of the Holy Cross is certainly going bring great delight as I stare out over the locations of these wonderful locations from the view of a helicopter is going to bring a smile to my face and excitement to my life.
We'll be on board with a certified professional pilot who knows their way around the area. The view of Lee mountain and the chapel of the holy cross are going to be a sight of a lifetime. The tour lasts about 15-minutes and will fly over the most talked about mountains.
This thrilling 15-minute tour will start after being picked up at my hotel local and after being picked up we'll board the helicopter and begin exploring. After flying past Lee Mountain we'll head over the Chapel of the Holly cross and learn about its history.
We'll get the chance to see the beautiful Snoopy Rock which is named after the famous Peanuts show and characters. Then we'll go on to visit the Schnebly Hill Road which was formed in the late 1800s. Learning about all of these locations are going to be fun and delightful.
I can't wait to thrust myself into this fun and educational tour and see all of the wonders and scenery of the Sedona mountains. This fun 15-minute helicopter tour is going to be pure fun and its fun for the entire family to come along and experience.

At just 15 minutes, this helicopter tour allows you to get a quick taste of the Sedona area's famous red rock formations and stunning attractions. You'll fly past Lee Mountain and soar over the Chapel of the Holy Cross, a famous chapel built in the 1950s that rises dramatically from the red rocks. See the Three Nuns rock formation and then fly past more natural sights, including Snoopy Rock, Steamboat Rock, Bear Wallow Canyon and Schnebly Hill Road.
After you've been picked up from your Sedona hotel and have boarded your helicopter, your thrilling 15-minute journey starts as you fly past Lee Mountain and head to the Chapel of the Holy Cross, an impressive Catholic chapel that was built in 1956 on Coconino National Forest land and is one of Sedona's most popular attractions. The chapel rises 250 feet (76 meters) out of a massive red rock formation and blends in wonderfully with its natural surroundings. Catch a glimpse of the Three Nuns, a red rock formation that looks like three nuns praying outside.

Next, soar past Snoopy Rock, named because it resembles the loveable Peanuts character, and Steamboat Rock before flying over Bear Wallow Canyon. Then look down on Schnebly Hill Road, an old stagecoach route from the late 1800s that was named after Sedona Arabelle Miller Schnebly, Sedona's namesake and the city's first postmaster.
Sedona Helicopter Tour: Red Rocks and Chapel of the Holy Cross: Morning Departure
Helicopter tour departs between 9am and 12pm
Sedona Helicopter Tour: Red Rocks and Chapel of the Holy Cross: Afternoon Departure
Helicopter tour departs between 12pm and 5pm
Book Now!