Grand Canyon National Park Aerial Tour from Sedona

Description
Grand Canyon National Park Aerial Tour from Sedona Photos (1)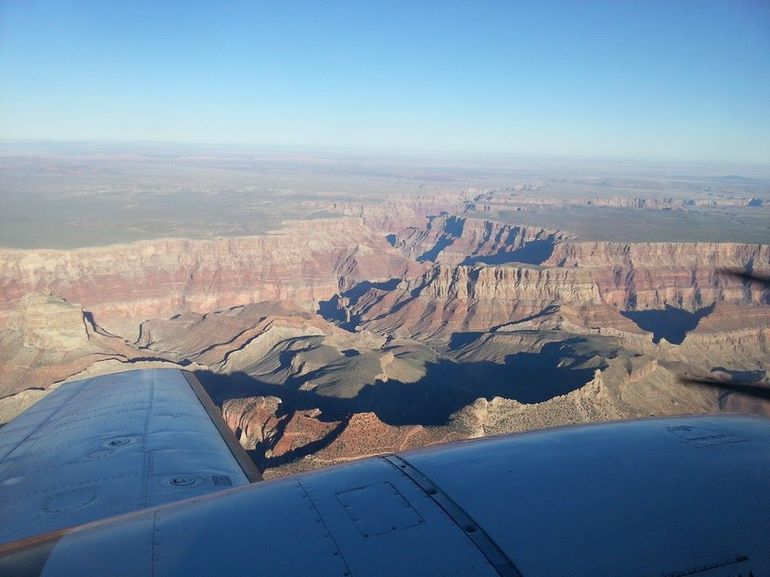 Enjoy a view of the Grand Canyon from the sky during a short aerial tour. The tour takes passengers over the South Rim of the Grand Canyon. There are plenty of opportunities for pictures and to ask questions about the canyon.
Guests are picked up from their hotel in Sedona. They are then taken to the aircraft to get in the plane for an hour-long excursion over the canyon. After viewing the South Rim, guests are taken to see Oak Creek. Guests are then taken past the San Francisco Peaks for a beautiful view of the mountains and the colors of the canyon walls. There are also opportunities for pictures of the Painted Desert. While this is a short aerial trip, it is one to remember as guests can experience some of the most detailed and beautiful areas of the canyon instead of walking along the trails to reach these same rims and walls. The Dragon Corridor is on the agenda as well during the flight. Guests will also be able to see the Desert View Watchtower. Since guests will be on a plane during the trip, there isn't a need to worry about the type of shoes or any specific clothing to wear.
Spend an hour in the sky viewing the Grand Canyon while taking pictures of the sights below the plane. The adventure begins in Sedona as guests are taken from their hotels to the plane. After the tour, there is plenty of time to return to the canyon or get a bite to eat in the city.

From Sedona, take a 1.5-hour aerial tour to Grand Canyon National Park. Fly along the South Rim to Oak Creek and past the San Francisco Peaks to the Little Colorado River. Admire the beautiful pastel colors of the Painted Desert and take in unbeatable panoramic views of the majestic Grand Canyon.
After pickup from your Sedona hotel, take a 1.5-hour scenic flightseeing tour to Grand Canyon National Park.

Enjoy views of the Sonoran Desert as you fly up Oak Creek, past the majestic San Francisco Peaks and over the Little Colorado River. Be amazed by the beautiful colors of the Painted Desert, located in the Four Corners area spanning from the South Rim to the Petrified Forest National Park.

Next, you'll fly over one of the seven natural wonders of the world, the Grand Canyon! Marvel at fantastic views of the canyon as you fly over impressive peaks and ridges of the South Rim including Desert View Watchtower and famous Dragon Corridor. Be sure to have your camera ready for the endless photo opportunities!