Drive The Original Sedona Vortex Tour

Description
Drive The Original Sedona Vortex Tour Photos (1)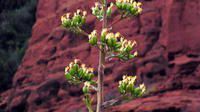 Get your chance to be one with nature. You will get an empowering experience and you will become filled with spiritual energy. This spiritual energy is concentrated mostly in the areas vortex spots. This is the area you will explore in an unforgettable Jeep tour. You will get the chance to feel the energy of the cathedral vortex in person. Your knowledgeable guide will take you through everything showing you plains animals and teaching you the rich history of the area. There is a lot of ancient wisdom and you will experience it off while you're here. Experienced beautiful canyonlands of Sedona and view stunning scenery you've never seen before.
You will learn about the details of parallel universes Einstein's theories and much more scientific information while you here as well. These canyons because of how important they are to Native Americans will be places that you see with a lot of beautiful ruins and other things. This area is called the seven sacred canyons and it is something you will want to take lots of pictures of so you can show the entire family. It was built by people who lived thousands of years ago and you will get to see this history in person.
This is a hidden jewel with the beautiful panoramic view and you'll be well served to take lots of pictures. Complete your spiritual exploration by viewing even more and by sitting around with people who share your spiritual views and having a good time. It is the perfect opportunity to bring someone and connect with you on a spiritual level. It's also a place to bring the kids as well.
Sedona is known for its powerful spiritual energy. It is most concentrated in the area´s vortex spots which we explore on this unforgettable jeep tour. Experience the energy of the Cathedral Vortex first hand, and let our knowledgeable guides introduce you not only to the plants, animals and history, but to the mystique of the Sedona area — perhaps to the melody of a sacred flute or a story of ancient wisdom. Let us guide you through the beautiful Canyon lands west of Sedona, a stunningly scenic area known as the Seven Sacred Canyons. Learn about the Vortexes Energy, listen to the tales of the parallel universe, string theory and Albert Einsteins theory about these high energy spots in Sedona. These Canyons have long been held sacred by Native Americans. They are home to a wealth of ancient ruins, the remainders of dwellings built by people more than a thousand years ago, and to the powerful vortexes. Complete your spiritual exploration of the Sedona area with a stop at Mystic Vista in the heart of the Seven Sacred Canyons — a hidden jewel with a breathtaking panoramic view, and a powerful energy spot. Come and experience the mysteries hidden in these ancient Canyons with us.




Pickup & Return:
Pick up and drop off at your Sedona Hotel
Departure Times: 10:00 am 1:00 pm
Hotel pickups commence prior to this time
Includes:
Local sales tax
Entrance fees for Red Rock Crossing state park
Water
Local Vortex guide
Hotel pick-up and drop-off in Sedona

Does not include:
Gratuity for the guide (optional)

Additional Information:
Confirmation will be received at time of booking
Dress code is smart casual
Not recommended for pregnant women
A small amount of walking is involved
Drive The Original Sedona Vortex Tour: Scenic Vortex Tour Morning
Scenic Vortex tour morning
Drive The Original Sedona Vortex Tour: Scenic Vortex Tour Afternoon
Scenic vortex tour afternoon
Book Now!