Diamondback Gulch 4x4 Open Air Jeep Tour in Sedona

Description
Diamondback Gulch 4x4 Open Air Jeep Tour in Sedona Photos (1)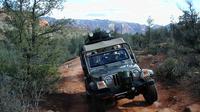 The Diamondback Jeep Tour in Sedona is a great way for you to see the area in the open air, and the Jeep is driven by a tour guide who knows this area very well. You are shown the history of Diamondback Gulch, and you can get out at spots that give you the best chance for good pictures.
The Diamondback Gulch tour is fun because you get a rambling ride through the area in a Jeep that makes you feel like you are on a roller coaster. The majority of people who take this ride are bumped around a lot in the Jeep, and that is what they were looking for because it is such an interesting ride and sensation.
The tour guide answers questions along the way, and they help you understand what you are looking at. They explain about the people who came through here in the past, and they talk to you about what you could do if you took another tour out here. There are other places to go, and this Jeep track is only one.
Get tickets for the tour online before you set off for Arizona, and show up a time that you think will offer the best light and experience. You could take this tour while the sun is setting, or it might be more fun to take the tour while the sun is rising.
The Diamondback Gulch Jeep tour is an interesting part of your vacation to Arizona. You ride with a tour guide who can take you and a couple friends, or two Jeeps could bring the whole family across the Sedona desert.
From Sedona our custom 4x4 open air Jeep takes you out into the rugged Dry Creek Basin. You will learn about the History, Geology, Flora and Fauna of this magnificent land from your experienced Guide. Diamondback Gulch is a rugged 4x4 only area with ample wildlife viewing opportunities. The Jeep crawls down into the Gulch then hold on as you climb up and out the other side!

See Thunder Mountain, Doe Mesa, Bear Mountain, The Cockscomb, and other Sedona Red Rock formations. This Tour is not recommended for those who are looking for a mild experience, those with pre-existing medical issues, or if you are pregnant. This is a Real Offfroad Adventure!

Pickup & Return:
Uptown Sedona Arizona.

Includes:
Bottled water
Driver/guide
Small-group tour

Does not include:

Additional Information:
Confirmation will be received at time of booking
Children must be accompanied by an adult
Operates in all weather conditions, please dress appropriately
Diamondback Gulch 4x4 Open Air Jeep Tour in Sedona: 11 Am
Check in Time 10:45
Diamondback Gulch 4x4 Open Air Jeep Tour in Sedona: 9 Am
check in time is 15 min prior
Diamondback Gulch 4x4 Open Air Jeep Tour in Sedona: 1 Pm
Check in time 12:45 pm
Book Now!