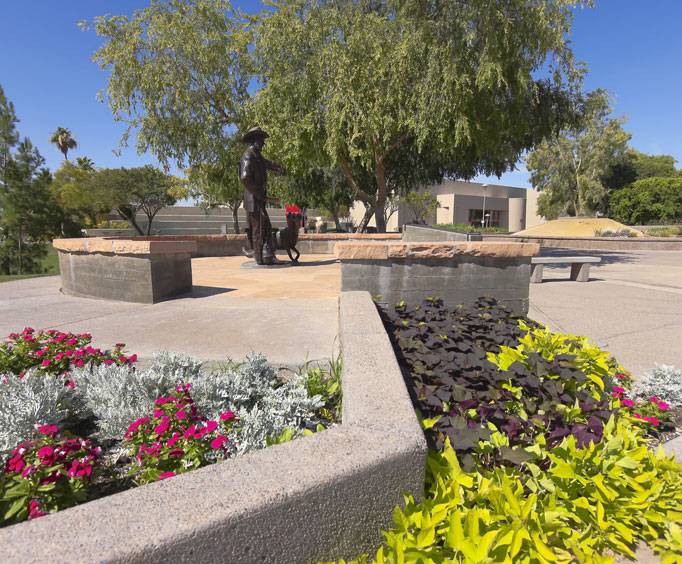 Scottsdale Civic Center Plaza in Scottsdale, AZ
7380 E. 2nd Street
7380 E. 2nd Street in Scottsdale, Arizona is a point of interest with its public art exhibits at the Scottsdale Museum of Contemporary Art that allows one to explore. Events can revolve around food or music, with Civic Center Plaza enveloping its territory from the east's Brown Avenue to 75th street, as well as stretching to the south from 1st avenue and 2nd street.
Scottsdale's Civic Center Plaza is used for events such as weddings, or business receptions. Any corporation or one person can rent the Civic Center Plaza to have a corporate event luncheon with a unique style of the venue. Scottsdale Civic Center Plaza has an amphitheater, a fountain stage, Marshall Gardens, Mayer Garden, the Northeast Lawn, and the Overpass. The location is handicap accessible as well as being outdoors.
Scottsdale, AZ has a lack of rain, which makes this an interesting region to visit with desert suited plants and cacti, having adapted to getting less water. Scottsdale, AZ is considered one of the ten best places to live, because the first golf course was introduced in 1899, at the Phoenix Golf Club.
The Civic Center Plaza has ponds, and gardens, as well as being a means to walk around an urban oasis, with a City Hall that can be accessed. The Civic Center Plaza has a water fountain inside. The Civic Center Plaza is a nice place to have a date in.
Events at Scottsdale Civic Center Plaza