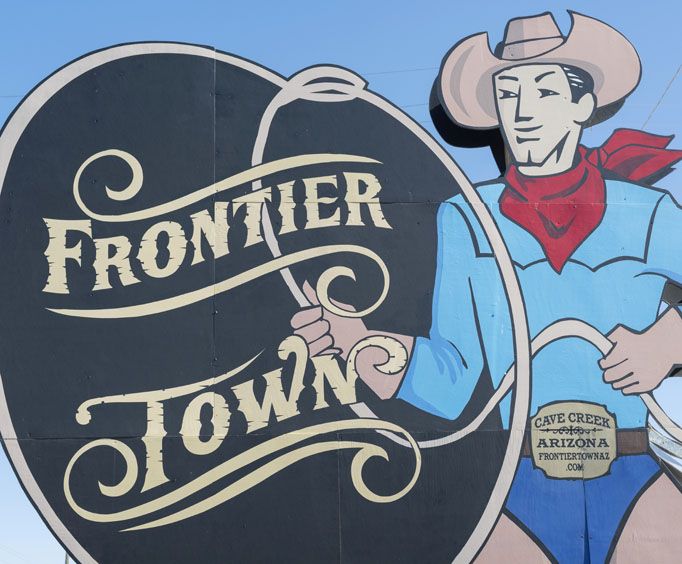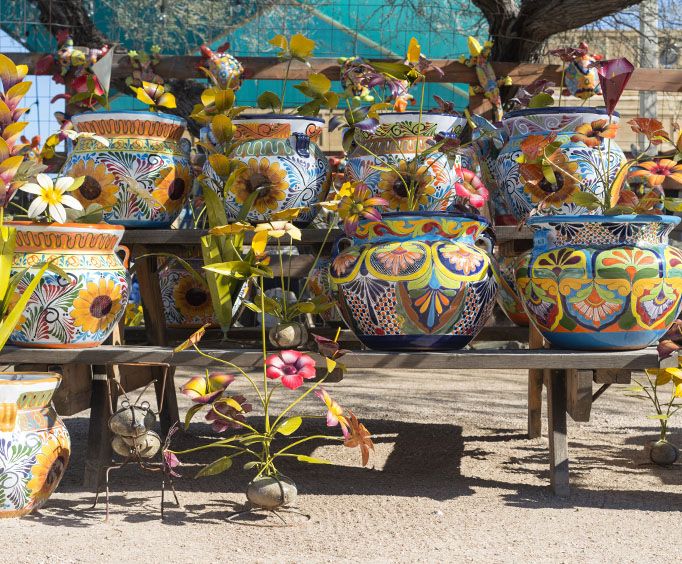 Frontier Town near Scottsdale, AZ
6245 E Cave Creek Rd. Cave Creek, AZ 85331
Take a step back in time when you visit Frontier Town near Scottsdale, AZ.
This attraction is modeled after the Old West towns from the mid 19th century and is filled with numerous shops and artifacts to keep you highly entertained. While walking along the streets, you can visit some of the buildings to see how people lived during the time of the American Frontier. See things like a boot hill graveyard, gallows, and a saloon in which you can hang out with cowboys and prospectors.
Located in the quaint Cave Creek area, this town is completely reminiscent of the days when the wild west reigned king. This quaint town is a short drive to downtown Scottsdale, where you can peruse areas like Fashion Square and find just what you need for your wardrobe. Also within close proximity is the Paradise Valley area, Old Town Scottsdale, and the Scottsdale Camelback Resort, where guests can have a relaxing outdoor swim.
From the wagons that are on display in various areas of the city to the wooden walkways, this fun attraction will make you feel like you have left the modern times behind and stepped into an era of simplicity and relaxation. Even the outhouse is the original 1936 outhouse that has no running water. Marvel at the hitching posts and covered wagons that will leave visitors thinking they have been completely transported to another time.
Buildings at the attraction include a general store, a school, a saloon, several antique stores, an old chapel, and a barbecue restaurant. Decorations and actors have been put in place so that each area resembles what you would find during this time in history. The land that the town sits on is rich in history, and you can discover some of that history while talking to the characters at the town.
Frontier Town was first built in 1935 and has become a popular attraction for visitors and locals alike. The town offers event space for weddings or other group events and has plenty of fantastic photo ops as well. With so many different spots to get your fill of tourist photos from, you are going to need to pack plenty of film or disposable cameras to get all of the shots that you want!
After enjoying a day spent in the Sonoran Desert, you are sure to want a nice relaxing hotel to With plenty of hotels and resorts in nearby Scottsdale, there is a wide array of options for lodging to choose from, making it even more enjoyable to experience. Many of the resorts and hotels provide guests with high-speed internet access to keep them fully entertained in their downtime. Pet-friendly hotels, hotels close to the Grand Canyon, or hotels close to the Camelback Mountain all make great options for locales when visiting the Frontier Town area.
One spectacular hotel resort in the area is the Fairmont Scottsdale Princess Resort, where you can relax in the ultimate luxury. This spectacular resort houses seven hundred and fifty guest rooms, with two presidential suites, sixty-nine Fairmont Gold rooms, and one hundred nineteen casitas. These accommodations are sure to provide exactly what you are in search of for your relaxing and comfortable getaway. This destination is packed with luxury and grandeur that is unparalleled in the area!
Some of the most popular attractions to visit while in the area include Wickenburg Ranch, the Scottsdale Fashion Square Mall, or even a wonderful farmer's market with a wide array of fresh fruits and vegetables. With so many different attractions within just a few miles of Frontier Town, there is sure to be plenty of things to enjoy on your vacation to the great and majestic state of Arizona.
One great attraction is the Taliesin West, which was at one point the Winter home and school of renowned architect Frank Lloyd Wright, and is now the main campus of the School of Architecture at Taliesin. This location houses the Frank Lloyd Wright Foundation, where he drafted and designed many of his notable works. Now, students can follow in his footsteps and become this era's master architects. There are even Native American petroglyphs that are located on the property and were found by Wright and his family upon arrival to the area.
Grab a reservation map and visit some of the Native reservations around the state and check out some of the fascinating artifacts that make up a great portion of their culture and lifestyles. With more than a quarter of the state of Arizona being used as reservation land serving twenty-two sovereign tribes, there is a wealth of culture and experience to be had. Many of the tribes have been around since the first inhabitants of Arizona, and some others arrived in the area a few hundred years before the Spanish conquistadors began exploring the area.
There are so many different reasons to visit the Frontier Town area in Arizona, among them, is the gorgeous Sonoran Desert. With endless picturesque views, there is no reason that one would not want to visit. With a vast biodiversity, this charming landscape will provide anyone visiting with views that can not be matched. From deciduous forest to a tundra landscape, there are so many different areas that one can see and experience. See some of the beautiful and notorious plantlife such as the Mexican gold poppies, Saguaro cactus, bur sage, prickly pear cactus, creosote bush, and many other types of native plantlife surround the area, making it a beauty to behold.
Whatever reason you have for visiting the vast area filled with rich history and culture, you are sure to find exactly what you need to make your vacation the best that it could be. Whether you want to take to the great outdoors and plan an adventurous vacation for your whole family, or you would rather spend your time away relaxing with some of your closest friends, you can be sure that your days will be filled with fun and excitement that will help you to create lasting memories to cherish for the rest of your life.
Pack up the kids or your closest friends and plan your next big getaway for the great lands of Arizona. Frontier Town, among numerous other reasons to visit, awaits your arrival. Make sure to plan ahead and add Frontier Town and some of these other exciting locales to your trip itinerary!