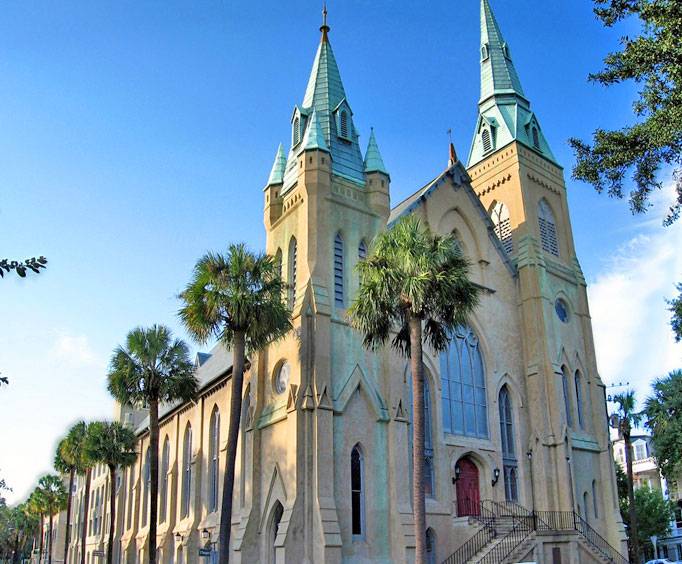 Wesley Monumental Methodist Church in Savannah, GA
429 Abercorn St Savannah, GA 31401
The Wesley Monumental Church, located in the majestic Savannah, GA is history at its' finest. Built in 1868, this church is an active
Methodist
church with a congregation of roughly 500 worshipers. You can find this celebrated church at 429 Abercorn Street.
Wesley Monumental Church's name honors brothers John and Charles Wesley who were the founders of the Methodist denomination. This impressive church was built with a curious Gothic design and is adorned with many memorial windows made of European stained glass, one of which, appropriately named the Wesley Window shows life sized busts of the Wesley brothers. To add to the church's Gothic architecture, the striking Noack Organ was dedicated to the church in 1985. Despite fires in 1946 and 1953, the church's steel ceilings miraculously contained the fires and saved this treasured historical place of worship.
Savannah, GA is rich with history, culture, breathtaking scenery and charm. You can visit other historical places such as Bonaventure Cemetery or the Cathedral of St. John the Baptist or just take one of the many historic trolley tours. Be sure to take a stroll through Forsyth Park, with the captivating water fountain in the center and surrounded by restored mansions and serene nature, it's a walk to remember. Before you leave, don't forget to fill up on Savannah's fine cuisine or just the simple, yet delicious southern cooking.
While the Wesley Monumental Church is an absolute must see, Savannah is sure to have the best of whatever you might be looking for , it's guaranteed to to be a trip to be remembered.