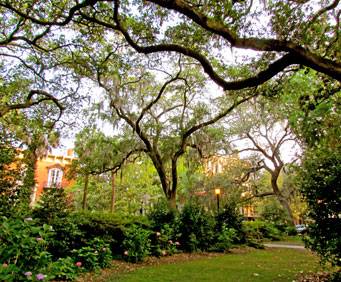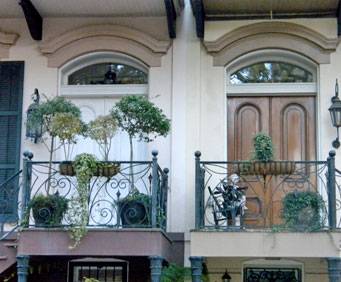 Monterey Square in Savannah, GA
Monterey Square was laid out in 1847 and commemorates the Battle of Monterrey (1846), in which American forces under General Zachary Taylor captured the city of Monterrey during the Mexican-American War.
In the center of the square is an 1853 monument honoring General Casimir Pulaski. The cornerstone of the monument was laid by Lafayette in Chippewa Square in 1825. Due to financial limitations an obelisk in Johnson Square served as a joint memorial to Nathanael Green and Pulaski for several years.
By 1852 funds had been collected to give Pulaski his own monument. The sculptor was allowed to choose the site for the project and he had the cornerstone moved to Monterey Square. Deterioration of the Pulaski monument was noted as early as 1912, and pieces began to fall in the 1990s. Restoration of the monument was completed in 2001. The body of an unknown Revolutionary soldier is said to be buried beneath Pulaski's monument, speculated by some to be Pulaski himself.
Monterey Square is the site of Mercer House, built by Hugh Mercer and more recently the home of antiques dealer and restorationist Jim Williams. The house, and the square itself, were featured prominently in John Berendt's 1994 true crime novel Midnight in the Garden of Good and Evil. The square has been used as a setting for several motion pictures, including the 1997 film version of Berendt's novel.
The square also is home to Congregation Mickve Israel, which boasts the only Gothic-style synagogue in America, dating from 1878.
Monterey Square is located on Bull, between Taylor and Gordon Streets, and is widely considered to be the most picturesque of Savannah's squares. All of the surrounding buildings but one (the United Way Building) are original to the square.