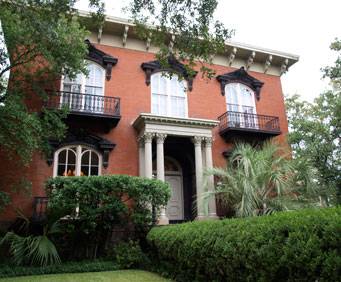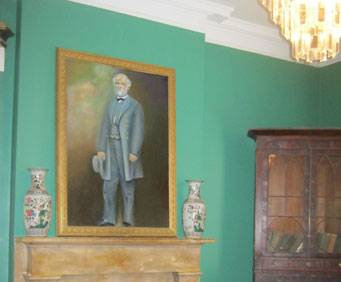 Mercer House in Savannah, GA
The Mercer House, now called the Mercer-Williams House Museum, is located at 429 Bull Street and stands at the southwest end of Monterey Square, in Savannah, Georgia. The house was the scene of the shooting death of Jim Williams' assistant, Danny Hansford, a story that is retold in the 1994 John Berendt novel
Midnight in the Garden of Good and Evil
. The house is currently owned by Dorothy Kingery, Williams' sister, and is open to the public for tours.
Designed by John S. Norris for General Hugh Weedon Mercer (great-grandfather of the songwriter Johnny Mercer) construction of the house began in 1860. Construction was interrupted by the American Civil War, and finally completed around 1868 by the new owner, John Wilder.
For a period in the twentieth century, the building was used as the Savannah Shriners Alee Temple. It then lay vacant for a decade until in 1969 when Jim Williams, one of Savannah's earliest and most dedicated private restorationists, bought the house and restored it.
Before Hansford's death, as retold in Midnight in the Garden of Good and Evil, the house had already been the scene of two deaths. In 1913 a previous owner tripped over the second floor banister, fractured his hip, and suffered a concussion, dying three days later. In 1969, a boy chasing pigeons on the roof fell over the edge and impaled himself on the iron fence below.
The following tours go by Mercer House:
4/17/2019 - 11/27/2019
11/29/2019 - 12/24/2019
12/26/2019 - 12/31/2019

Only courageous souls will stand a chance on this Ghosts & Gravestones of Savannah Tour, so if you have what it takes, then prepare to experience this haunted city from a treacherous seat in the Trolley of the Doomed.