Savannah, GA Hotels with Hot Tub / Whirlpool
View all 9 Hotels with Hot Tub / Whirlpool


Savannah, GA Hotels with Hot Tub / Whirlpool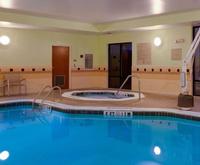 When guests arrive at the Springhill Suites by Marriott Savannah, they can enjoy time in the indoor hot tub that is located beside the indoor pool. Guests can adjust the temperature of the water to their liking so that it's comfortable. A rail and steps allow for easier entry into the hot tub. There is a fitness center in the hotel that is open 24 hours a day. Breakfast is available each morning and features a variety of hot and cold items.
Indoor Hot Tub is open from 8 AM to 10 PM daily.

Rating:





Customer Rating:





The room was clean. The staff was very helpful. The hotel driver was a good driver and kept the vehicle clean.
Gina Evans
Miami, Fl
Comfort Suites Historic District hotel is located in Savannah, Georgia. It is a hotel that is pet-friendly and it has a number of interesting amenities that include microwaves, refrigerators, sofas, cable television, hairdryers, irons, ironing boards, and coffeemakers in every room. Comfort Suites Historic District hotel also has free Wi-Fi, complementary hot breakfasts, an indoor pool, a fitness center, and free newspapers. The hotel's hot tub is an interesting feature and it is located inside of the hotel. The hotel is located near a number of fun activities such as a theater, a number of tours, and a number of museums.
Indoor Hot Tub is open from 9 AM to 10 PM daily.
When away from home, it is nice to have some relaxation time, and spending time in a hot tub is a nice way to do this. When looking for a hot tub when staying in Savannah, the Days Inn & Suites Gateway is a great choice. The hotel has a large inside hot tub. Other hotel amenities to enjoy include a hot breafast, an indoor pool, and a fitness center. Complimentary high-speed internet is available throughout the property. Guest room amenities include internet access, a flat screen television, alarm clock, coffee maker, and an iron and ironing board.
Outdoor Hot Tub
The Hampton Inn & Suites Savannah is a hotel that offers a hot tub indoors for guests to enjoy as well as an indoor pool. There are steps and a rail to make it easier for guests to get into the water of the tub. Guests can view the exterior of the property through the windows that surround the indoor pool area. Free breakfast is served each morning and includes a variety of waffle flavors and fresh fruit. Rooms have microwaves and coffee makers available for guests.
Indoor Hot Tub is open from 9 AM to 10 PM daily.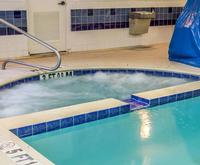 Rating:





Customer Rating:





My son and I had a great time. The room was spotless and was cleaned every day. Also, we enjoyed our complimentary breakfast as well. When I visit Savannah again, I will definitely stay at Comfort Suites Savannah North. R. Williams
Robin Williams
Conyers, GA
Imagine yourself walking through downtown historic Savannah, Georgia. At the end of a long day of sightseeing, you can return to your hotel and soak in the hot tub or enjoy a dip in the indoor pool. It does not matter if you are arriving on business or enjoying a family vacation, with a pet-friendly hotel so close to all of the attractions you will certainly leave happy. Especially with your complimentary hot breakfast, and the ability to eat it on the go.
Indoor Hot Tub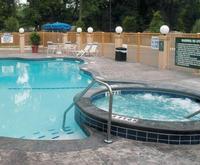 If you're looking for an inexpensive romantic spot with a hot tub, then the Laquita Inn Suites are just for you. The La Quinta has all the amenities you need which are shuttle ride to and from the airport, fitness center outdoor pool, Jacuzzi, and some hot breakfast. You will be close to the attractions like Mighty Eighth Air Force Museum, Juliette Gordon Low Birthplace, and the Davenport House Museum. After a long day of fun, you can come back to your room and enjoy the basic amenities that will make your stay worth the while.
Outdoor Hot Tub is open from 9 AM to 10 PM daily.
View all 9 Hotels with Hot Tub / Whirlpool