Description
Take some time to explore Savannah through new eyes with the Walking History Savannah Squared guided walking tour.
This tour takes you through Savannah city streets on foot to give you an up-close and personal look at the city's most famous sights. You will be led by a native resident who has lived and breathed all things Savannah her entire life, and through her narration, you will gain personal, native insight into the city. During the Walking History Savannah Squared guided tour, you will visit or pass by many famous sites as well as some lesser-known, sites. The tour departs from Ellis Square, and focuses on several unique city squares and their fascinating architectural differences.
Detailed Tour Itinerary
STOP 1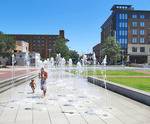 Tour Stop at
Tour Stop at
Ellis Square
Meet your tour group at Ellis Square at the corner of Barnard Street and West Congress Street, beneath the statue of Johnny Mercer. Known for writing over 1,000 songs, Mercer is most famous for his "Moon River." From here, you will explore many of the other Savannah Squares.
STOP 2

Includes Admission to
Includes Admission to
Andrew Low House
Take a peak inside one of the most magnificent mansions in Savannah when your tour gains admission to the historic Andrew Low House, built in 1849 for Andrew Low, a wealthy cotton factor. Low's son, William Mackay Low, married Juliette Gordon, who formed the Girl Scouts of America. The carriage house to the Andrew Low House is currently the Birthplace of Juliette Gordon Low museum house, and the Andrew Low House is also partially dedicated to that famous woman.
STOP 3

Tour Stop at
Tour Stop at
Monterey Square
Finish your tour at Monterey Square, a few blocks away from your starting location. Your tour guide will be more than happy to give you directions or point you in the right direction for your next destination.
Stops may change due to traffic, weather, maintenance, etc.
This tour is a great way to learn more about the city's unique culture and rich history in a lively and interesting way, and is a 'must' for any trip to Savannah. This tour is in high demand, so be sure to reserve your space on the Walking History Savannah Squared tour today!
MOST POPULAR THINGS TO DO
IN SAVANNAH GEORGIA
Book Now!