2019's Best Savannah Trolley Tours

Skip the usual bus tours and head out on the town in a trolley. These trolley tours are among the best in Savannah and each offers you something different to explore. You will love the experience of sightseeing from a trolley!
2019's Best Savannah Trolley Tours
A vacation in Savannah isn't complete without a tour that unearths its most ancient residents. Your "ghost host" will take you through America's Most Haunted City and through the ancient cemeteries, antebellum mansions, and former battlegrounds that are said to be the sites of some of the past's most horrific tragedies.
One of the best (and most terrifying) Savannah trolley tours is the Ghost Trolley tour with Pirates House Tour & Dinner. The excursion offers views of some of the most haunted places in the area as well as a stop at the delicious Pirate's House for a meal.
Relax and enjoy the fresh air and interesting facts and stories told you by your guide on the Old Town Trolley Narrated Tour. This tour will give you a comprehensive narration covering over 250 years of Savannah's history while you travel through the historic areas of the city. While you're on the tour, you have the chance to get off the trolley to explore sixteen different stops like the City Market, Forsyth Park, and the Cathedral of St. John. That means you can stay as long as you like at your favorite spots and skip places that are less interesting for you.
Soak in the beauty and incredible atmosphere of historic Savannah with the Savannah Historic Overview Trolley Tour. This open-air tour will take place in one of the area's charming trolleys and includes views of the Historic District, Historic Square, River Street, and the City Market. A knowledgeable tour guide will narrate, so you can learn about these historic areas on this relaxing tour.
Savannah, GA has over 250 years of history to share with guests and the Historic On / Off Trolley Tour is the perfect way to explore it all. With 13 different stops including River Street Market, Mansion on Forsyth Park, and Hyatt Regency, this tour will take you to all the best historic attractions in Savannah. Your tour is partially narrated so you can learn about the areas before each stop.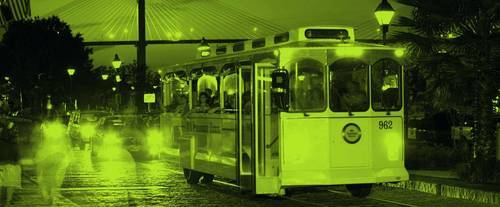 The Ghost Trolley Tour with Rum Cellar & Sorrell Weed House tour is a great way to experience the creepier side of Savannah. Experience the supernatural parts of history with this unforgettable adventure.
Pricing and schedule are currently unavailable.

Activities