Santa Fe Hotels with an Outdoor Pool
View all 19 Hotels with Outdoor Pool
Enjoy the excellent Santa Fe, NM summer weather at one of these hotels. An outdoor pool provides entertainment for both adults and children at a convenient, on-site location.
Santa Fe Hotels with an Outdoor Pool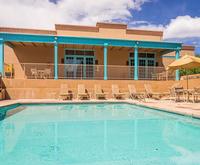 Rating:





When looking for hotels with outdoor pools, the Villas De Santa Fe will not disappoint. The hotel is located within one mile of the Mexico State Capital. The hotel amenities include complimentary high-speed internet, a monitored fitness center in case help is needed, guest laundry facilities, hot tub, and a large heated outdoor pool with plenty of available seating. The guest rooms are equipped with a kitchenette, cable television, high-speed internet access, iron and ironing board, and other nearby attractions include the Museum of Indian Arts and Culture.
Outdoor pool and hot tub is open from 7 AM to 10 PM daily.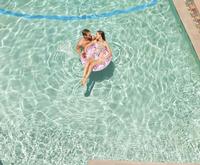 Rating:





When the temperatures get a little cooler, it becomes harder to find hotels that have heated pools. But if a vacation in New Mexico is an idea then enjoying the historic area around the La Fonda on the Plaza Hotel in downtown Santa Fe, New Mexico is the best option. Not only do the land have the incredible Cathedral Basilica of St. Francis of Assisi a block away but there is also an outdoor hot tub and heated swimming pool that has massage services. Not many hotels have massage services with their outdoor heated pool, but La Fonda on the Plaza should be the only option when looking at hotels with outdoor pools.
Outdoor pool is open from 10 AM to 10 PM daily.

Rating:





When you're in Santa Fe there's no better choice than Garretts Desert Inn, and you'll never have to miss a day of mindful practice with Desert Yoga offered! Your other workout needs will be met with a fitness center conveniently located on-site, or you can take a break from your routine and have a relaxing drink at the on-site bar. Whenever you need a refreshing swim head to the outdoor swimming pool that is open all day long. Don't forget there's plenty of fun outside the hotel with the beautiful sights of Santa Fe to see and many attractions nearby.
Outdoor pool is open from 8 AM to 11 PM daily.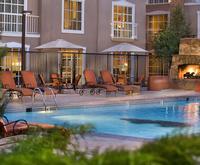 The Hilton Sante Fe is the perfect place for a relaxing hotel stay if vacationing or just having a weekend getaway from home. Our hotel offers all the services that you will need and world class amenities to meet any accomodation. The Hilton's greatest luxury is it's spacious outdoor pool. The pool is the perfect place to spend days lounging, drinking and swimming. There are also many attractions available to do around town for guests who like to venture out.
Outdoor heated pool and hot tub is open from 8 AM to 10 PM daily.
When staying in Sante Fe, La Posada Sante Fe Resort & Spa will exceed your expectations, especially if an outdoor pool is desired. The outdoor heated pool is located in a beautiful courtyard. There is shaded pool seating, and drink service is available. Other hotel amenities include a hot tub, a business center, a fitness center, and an onsite restaurant. There is even a haunted room on the premises that guests are welcome to book. Room amenities include cable tv, internet access, microwave, refrigerator, and guests are given custom decorated water bottles to keep.
Outdoor pool and hot tub is open from 7 AM to 11 PM daily.
The Four Seasons Resort Rancho Encantado, in Santa Fe, NM, will make your stay luxurious and comfortable; your room will come furnished with a fireplace, beds decorated with Italian linen, beamed ceilings and double closets, along with a terrace or private balcony.
Experience Santa Fe with free downtown shuttles, or with guided tours of the Santa Fe Opera House, art galleries and villages. Recreational offerings include hiking, biking, fishing, river rafting, swimming in the outdoor pool, and a fitness center. Wind down later at the spa, or enjoy dining at Terra, which offers regional cuisine.
Outdoor pool and hot tub
View all 19 Hotels with Outdoor Pool