Santa Fe Hotels with an Indoor Pool
View all 7 Hotels with Indoor Pool

Santa Fe Hotels with an Indoor Pool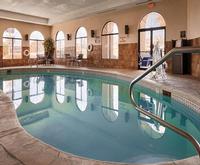 Rating:





Not only is the Best Western Inn of Santa Fe near the College of Sante Fe and ski slopes, but it also has an indoor pool, which is perfect for those with families or for those guests who just enjoy hotels with indoor pools. The indoor pool large enough for swimming laps and has plenty of seats and tables. The other hotel amenities include a complimentary continental breakfast, a business center, a fitness center, and complimentary tea and coffee. Guest room amenities include a microwave, free local phone calls, and a coffee maker.
Indoor heated pool and hot tub is open from 8 AM to 11 PM daily.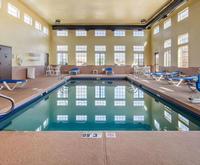 Rating:





We're in Santa Fe, and it's hot out. The city has a lot of things to do that are attractive to tourists, such as the Georgia O' Keefe Museum, but we can only spend our time outdoors for so long. The number one thing we want in a hotel is an indoor pool where we can cool off. The Comfort Inn in Santa Fe has it. Our dog Corky is here with us because the hotel allows for pets. In the morning, we look forward to enjoying our free breakfast of coffee, waffles, eggs, and more.
Indoor heated pool and hot tub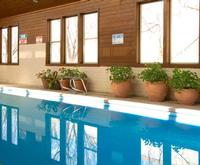 Rating:





There are many hotels with indoor pools but none of them have the character that the Fort Marcy Hotel Suites in Santa Fe NM does. After taking a refreshing and vigorous swim in the heated indoor pool, the hotel has rooms where guests can sit in front of a real wood-burning fireplace. There is nothing quite like it and it must be experienced to be believed. There is also fantastic shopping opportunities to be enjoyed at this one of a kind hotel.
Indoor heated pool and hot tub is open from 8 AM to 10 PM daily.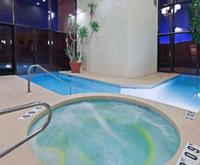 Save time and money making your reservation at Double Tree by Hilton Hotel when visiting Santa Fe, New Mexico a city full of history and adventure. This Spanish colony was founded in 1610 where the architecture is unique and outstanding with their unique adobe structures. Double Tree Hotel has an amazing indoor pool that every guest is welcome to use it doesn't matter the temperature outside this amenity is always open. Make your reservation now and enjoy your vacation at Double Tree by Hilton Hotel Santa Fe, New Mexico.
Outdoor pool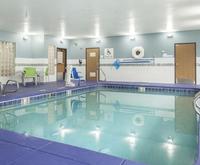 Rating:





Indoor pools are just so much nicer than outdoor pools. With heated water and enclosed privacy to prevent onlookers while you relax, there is just so much to enjoy about them. For those guests who are big fans of indoor pools, they will be more than happy when they book a room at the Comfort Suites Santa Fe NM. A nicer indoor pool would be hard to find and the other amenities the hotel offers include a full-service business center and a sun deck.
Indoor heated pool is open from 9 AM to 10 PM daily.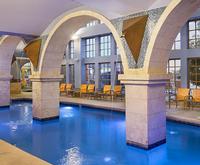 Not only does the Hilton Santa Fe Golf Resort & Spa at Buffalo Thunder feature such amenities as a full-service breakfast area and a casino but they also offer two hot tubs, one indoors and one outdoors. The architecture in the hot tub areas is truly unique and makes the relaxation gleaned from the tubs even more exquisite. In addition to the aforementioned amenities, the hotel also offers an outdoor tennis court and a pool designed exclusively for the children.
Outdoor pool and hot tub
View all 7 Hotels with Indoor Pool