Santa Fe Hotels with an Airport Shuttle
View all 5 Hotels with Airport Shuttle
Santa Fe Hotels with an Airport Shuttle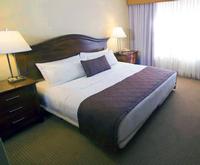 Rating:





When it comes to an airport shuffle it should be safe and spacious. We at Villas De Santa Fe makes sure that our customers enjoy a safe journey to the airport. We understand the need for the customers to reach the airport on time so we do our best to provide them with a very reliable service. We make sure that our airport shuttles are safe and also very spacious so the customers can enjoy a very relaxing journey. We train our drivers well so they can drive safely properly. We make sure that our customers reach their destination on time.
Airport shuttle available for a fee.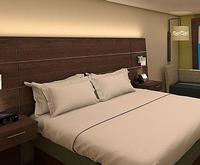 Thinking about heading to the Albuquerque International Airport, but worried about how to get to the hotel without spending all the vacation budget money? The best option is the Holiday Inn Express and Suites in Santa Fe, New Mexico. The hotel is conveniently located near Interstate 25. The hotel shuttle bus service runs every 30 minutes until midnight and is available for arrivals, departures, and small town adventures. These adventures can include a shuttle ride into Santa Fe's historical town to enjoy the Santa Fe 'Sip and Savor' Food Tour, guided tour art galleries, the Santa Fe Railyard Arts District Food Tour, and most amazing of all the Santa Fe Scavenger Hunt Adventure.
Airport shuttle available for a fee.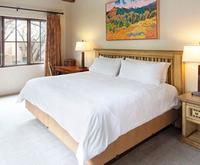 Enjoy your trip to Santa Fe at a Victorian hotel, haunted by the ghost of Julia who went through many losses. You'll get to learn the history of Julia who locked herself away for the remainder of her life and died in her room that is still in the hotel today. You can stay in that very room, or maybe go to the relaxing spa or swim in the pool located in the courtyard. Every evening you can taste wine in the lobby, and socialize with other guests, listen to musicians play guitars and get cozy next to the fireplace.
Airport shuttle available for a fee.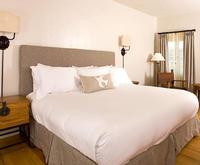 Rating:





Booking a stay in Santa Fe, New Mexico and wanting to avoid the hustle and bustle of traffic or long drives? Just want to be driven around? Take advantage of the free hustle service with Hotel St Francis that is situation at 210 Don Gaspar Avenue in Santa Fe, New Mexico. This historic city offers several attractions that are centered around Santa Fe's culture which the shuttle service will provide transportation. No need to get a taxi, Uber, or Lyft and keep that vacation budget money nestled in the purse or wallet.
Renting a car from any airport can be a daunting part of the vacation process when it's time to just relax. The good news is there are several hotels that have accompanying airport shuttles that run until midnight for those late nights. Make reservations at Four Seasons Resort Rancho Encantado Santa Fe in New Mexico and take advantage of the shuttle service. But why Four Season Resort Rancho Encantado? The complimentary shuttle service will drive guests into the town of Santa Fe where shopping and restaurants are walking as well as the towns guided tours to the local Pueblos, the Santa Fe Opera House and historical art galleries.
Airport shuttle available for a fee.
View all 5 Hotels with Airport Shuttle