Santa Fe 4 Star Hotels
Luxury is hard to find at an affordable price, but these 4 star hotels in Santa Fe, NM offer some of the best amenities in the business without the 5 star price. Enjoy your stay at one of these highly-rated hotels. Book your accommodations today to enjoy the beautiful city with tons of adventurous activities.

Santa Fe 4 Star Hotels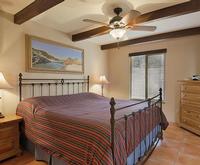 Rating:





This may not be Route 66 but on Route 475 is a 4 star lodging gem, the Fort Marcy Hotel Suites that is worth consideration when searching for value. From its premium hilltop locale is a true view. The main building set amidst the sprawling manicured 9 acres provides all that is amenities driven. The luxury of an indoor pool, hot tub, Kiva fireplace, and fully functioning business center and event site for banquet/conferences meets the needs of any visitor. Just a short stroll from the heart of Santa Fe is restaurants, shopping, galleries providing a wonderful Sante Fe experience.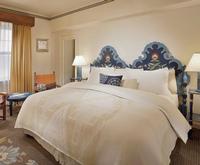 Rating:





Your family will love a stay at La Fonda on the Plaza, in the center of many landmarks that will make an unforgettable vacation experience. Spend the whole day sightseeing with your family starting with the Cathedral Basilica of St. Francis of Assisi close by, the Georgia O'Keefe Museum, the Palace of the Governors and more! Your hotel stay will be perfect with a heated pool, a spa offering massages, an outdoor hot tub and on-site restaurants La Plazuela and La Fiesta Lounge. Don't forget you can shop all you want at 17 different stores filled with souvenirs and artwork.
Rating:





We at Rosewood, make sure that the clients are treated like a king. We have a well-trained team of expert hotel staff who are always ready to serve the guests. We believe in constant improvement and innovation. We try to keep improving our services so the clients are happy with our service and also they can enjoy a memorable time. The rooms are very well maintained and the materials used in the bed are very comfortable to make sure that our guests can get good quality of sleep. Our restaurant has a wide range of foods prepared by our expert chefs.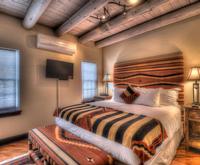 Rating:





Stay at a nice boutique hotel the Inn at Vanessie in Santa Fe, NM in the center of the city. Every morning you'll get a delicious breakfast served in the Vanessie Sun Room after you can walk two blocks to the Historic Plaza in the center of Santa Fe's entertainment and art district with galleries to view and art to purchase. Your hotel will have free concierge services to help you find fun venues and help you with booking dinner renovations. You'll enjoy the music of Doug Montgomery along with blues, jazz, cabaret and soul music playing throughout the week.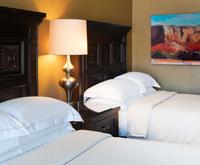 Hilton Santa Fe Historic Plaza is one of the best hotels when it comes to serving their customer properly. We have been doing this for decades and always we try to improve and bring innovation to our services. We make sure that the beds are properly arranged for our guests and they get the best treatment. The materials we use in our bed are linen which is very comfortable and you can get the best quality of sleep. We also provide our customers with a wide variety of foods in our restaurants so they can taste exotic and delicious foods.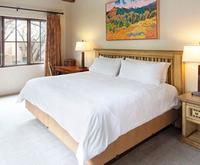 When it comes to serving our guests we are always ready and we train our hotel staffs very well to meet the demands of our guests. We provide excellent hotel rooms for our clients so they can enjoy their stay and have a good time. The rooms are very well decorated and the view outside is also very peaceful. We also make sure that the bathrooms are comfortable and have all the necessary things that might be needed by our guests. Our restaurant service is very popular in the area as the chefs are always making various exotic foods for our guests.