Audio Tour Options in Santa Fe, NM
Learn about Santa Fe local life with one of these audio tour options.
Audio Tours of Santa Fe's Historic Downtown is an interactive and self-guided GPS walking tour that will take you back in time to the city's most significant places. This smartphone app features customizable and informative audio commentary, covering over 16 cultural landmarks, architectural marvels, and natural beauty spots in the historic Santa Fe Plaza. Listen to the stories of Spanish Conquistadors, Pueblo Indians, and religious leaders as you walk through the winding streets of this charming city. The app's easy-to-use GPS tracking function guides you from one site to the next, allowing you to explore at your own pace.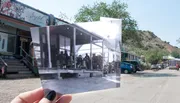 Audio Tours bring Madrid, the town too high to die, to life with its History Tour. Discover the history of Madrid on this walking tour as you visit historical landmarks and sights such as the Mineshaft Museum, Oscar Huber Memorial Ballpark, and the Engine House Theater. You'll learn about this unique town's past and how it came to be as you stroll through the streets and take in the stunning views of the New Mexico landscape. The tour is self-guided, allowing you to move at your own pace while enjoying the rich history of Madrid.