Things to do in Santa Fe, New Mexico
Historic & Cultural Museums
Since Santa Fe is so rich in history and culture, it makes sense that there would be plenty of museums to showcase this.
Located on the Historic Santa Fe Plaza, The New Mexico History Museum shows the history of the city and state over the past 400 years. Within, you will learn about various events and experiences that have shaped the two into what they are today. See exhibits that show the history of early indigenous people, the Spanish colonization, the Mexican period, and travel along the famous Santa Fe Trail.
The Palace of the Governors is also in the same area. It was originally constructed in the early 17th century as Spain's seat of government. Today, it showcases the history of the region. The adobe structure is a Registered National Historic Landmark and an American Treasure! It features galleries, small rooms, and is set up much like it was when it was built. You don't want to miss out on the chance to enter this amazing historical site and museum.
Food Tours
One of the best things about traveling to a new place is trying the local food. Why not embark on a food tour that shows you the best of this local food?
Explore the beautiful downtown area and the local eateries with the
Santa Fe Sip and Savor Food Tour
. If you love food, history, and architecture, then this is the perfect combination tour for you! It's the best of all worlds; you will see historic sites and enjoy samplings of multiple restaurants and wine tastings in the area for a complete overview of the city. This tour is the best way to learn about the history of the area and its notable buildings, landmarks, and locations; and also try some of the well-known eateries in the area. You will see landmarks like the iconic Loretto Chapel and the Cathedral Basilica of Saint Francis on your way to four amazing restaurants.
For a tour of the
Railyard Arts District
, check out the Santa Fe Railyard Arts District Food Tour. You will walk about 1.5 miles around the area, stopping at four different restaurants. Along the way, your guide will explain some of the histories of the area including the rise of the railroad that redefined the Southwest and how they plan to continue developing this beautiful Railyard district in the future. Not only will you visit delicious food and beverage locations, but you also see tons of historic locations and landmarks.
Architectural Tours
Experience the beautiful architecture of the city with a walking tour! The
Santa Fe Architectural and Interior Walking Tour
will take you around this breathtaking city to see the best of what it has to offer. Unlike any other area throughout the entire United States, the city is full of adobe buildings with a variety of Victorian and Mission Revival influences. Don't miss the chance to explore the cities back roads, art districts, and even the residential neighborhoods of Santa Fe and discover the style of the area.
Art Museums & Tours
Santa Fe is known for its amazing art scene and Canyon Road is the city's art district. With the
Canyon Road Quickie Walking Art Tour
, you will go inside of multiple galleries and shops to see some of the area's most beautiful art. As you head to the galleries, your guide will give you facts and stories about some of the art history known to the area. With over eighty galleries, shops, boutiques, and restaurants in the area, your time on Canyon Road can be an all-day adventure; but the tour is designed to introduce you to all the highlights so you can get a full Canyon Road experience in just under a two-hour time frame. You will see everything from contemporary art to Indian arts.
Santa Fe Most Popular Activities
Wine country is a great place to visit, especially if you're in Santa Fe. It's where the region's winemakers grow their grapes and make their wines, so it's no surprise that Santa Fe has one of the most robust wine cultures in the state. The three hour Savor Santa Fe Wine Pairing Dinner Tour is an opportunity to try wines from around New Mexico and delicious local produce in a fun, educational setting. The food and wine pairings will be guided by the Savor Santa Fe team, who has crafted this day to provide the perfect balance of flavor, recipes, and wine selection. The menu features three restaurants in Santa Fe's historic downtown district. Each restaurant offers something different, with a focus on local ingredients and flavors that are representative of New Mexico cuisine.
Dec 15
N/A
Dec 16
N/A
Dec 17
N/A
Dec 22
N/A
Dec 23
N/A
Dec 24
N/A
Dec 25
N/A
Dec 29
N/A
Dec 30
N/A
>
Spend an afternoon full of fun and adventure as you embark on this unique walking tour through historic downtown Taos with an informative guide giving you a lesson on the history of the area and stories of the people who helped build it on this fun tour!
Dec 16
N/A
Dec 17
N/A
Dec 23
N/A
Dec 24
N/A
Dec 30
N/A
>
Learn all about the interesting and iconic history of Santa Fe, NM on the Santa Fe History Guided Walking Tour. The tour encompasses places like Santa Fe Plaza, Palace of the Governors, and Burro Alley.
Santa Fe, New Mexico, is a city steeped in rich history and culture, with an abundance of fascinating landmarks, art galleries, and museums. If you're planning a trip to this beautiful city, explore its unique charm by taking the Smartphone Audio App Self-Guided GPS Walking Tour of Santa Fe's Historic Downtown. The Smartphone Audio App Self-Guided GPS Walking Tour is an innovative and immersive way to explore the city's many attractions at your own pace. This tour offers a unique experience that allows you to take in the sights and sounds of Santa Fe's Historic Downtown while learning about its rich history. The tour is self-guided, meaning you can start any time and explore at your own pace. You can download the app and access the tour's GPS-enabled map using your smartphone. The map will guide you through the city's most significant landmarks and provide detailed information about each one.
Tumbleroot Brewery and Distillery is located in Santa Fe, New Mexico, and offers tours and tastings of its brewery and distillery. During the tour, visitors can learn about the brewing and distilling process and the history and culture of Santa Fe and the Southwest. The tasting portion of the tour allows visitors to sample some of Tumbleroot's beers and spirits. If you are interested in booking a tour, you can visit Tumbleroot's website or call their phone number to check availability and make a reservation. Also, check their website or social media pages for any updates or changes to their tour and tasting offerings, especially in light of current public health restrictions.
Dec 15
N/A
Dec 16
N/A
Dec 17
N/A
Dec 18
N/A
Dec 19
N/A
Dec 22
N/A
Dec 23
N/A
Dec 24
N/A
Dec 25
N/A
Dec 26
N/A
Dec 29
N/A
Dec 30
N/A
Dec 31
N/A
Jan 01
N/A
>
Unlocking your hidden intuitive abilities is a mystifying and transformative experience, and the Santa Fe Intuition Workshop promises just that. With its promise of a unique and enlightening experience, the Santa Fe Intuition Workshop, located in Santa Fe, New Mexico, is designed to activate and unleash your intuitive power. Offering attendees the tools and techniques they need to tap into their innate intuition, this workshop empowers participants to embrace a heightened level of perception, opening up new avenues for interpretation, comprehension and navigation. Whether you're seeking to deepen your spiritual practice, gain a clearer understanding of your life's purpose, or simply explore new possibilities, the Santa Fe Intuition Workshop is an ideal opportunity to achieve these goals and more.
Dec 16
N/A
Dec 17
N/A
Dec 18
N/A
Dec 19
N/A
Dec 20
N/A
Dec 21
N/A
Dec 23
N/A
Dec 24
N/A
Dec 25
N/A
Dec 26
N/A
Dec 27
N/A
Dec 28
N/A
Dec 30
N/A
Dec 31
N/A
Jan 01
N/A
Jan 02
N/A
Jan 03
N/A
>
The stained glass class at the Anasazi Regional Museum in Santa Fe, New Mexico, is a treasure. It's a one-of-a-kind opportunity to learn how to create wonderful stained glass windows as part of an ongoing artist residency program. There are no other classes like it in the world! But you have to try it at least once. This will be your first step toward giving your creativity wings! Take advantage of this experience! The stained glass class is only offered every winter and spring, and there are a maximum number of participants. You'll learn how to cut and shape stained glass pieces, sell them together into a panel, and create a beautiful window out of them. You will stand back in amazement at the result. It will indeed be "Aha!"
Put on your big-girl pants, and get out there. This bar hunt is the perfect excuse to get away for a weekend or not sleep. Although it takes up only half of this small space, you'll still find booze on tap and pinot grigio by the glass. The décor features anything from vintage furniture to original artwork in shades of brown and gold—a great place to people-watch if you're bored with everything else around you (or vice versa). The bar serves up a variety of cocktails, from classic flips to solid and dry martinis. Watch out if you order the cocktails mentioned above within the first hour of their opening, as they are not guaranteed to be fresh. Several newspapers have reported that drinks have been given an incorrect time and therefore have been served to people who have already consumed them by that time.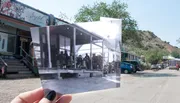 Madrid history tour is a seven-hour trip organized by the Madrid City Council. It begins and ends at Plaza Mayor. It's an informative tour of Madrid's culture and economic growth. Madrid is an old city developed in 1860 by Christians and Moors. They formed canals for water supply. During the Medieval period, Madrid was the heart of Spain when the country ruled over Europe. Madrid is famous for being the home to Spain's royal family, and through the years, it has experienced hardships. In the Middle Ages, the town was governed by Alfonso VIII and Cid before it became a famous religious center. Madrid has a rich history that dates back to the 1600s. The tour intends to show the history of Madrid, like the troubles it has overcome and the fun side. Book a date now on this tour of Madrid!
Take an exciting adventure through Santa Fe on the Small-Group E Bike Adventure Tour Through Hidden Santa Fe. This tour combines adventure with sightseeing and some learning for a great time.
Mar 04
N/A
Mar 11
N/A
Mar 18
N/A
>