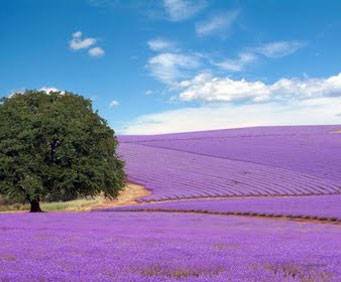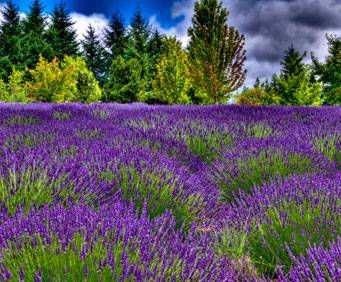 Lavender Fields near San Diego, CA
12460 Keys Creek Rd Valley Center, , CA 92082
We don't usually associate farms with sweet aromas, but lovely scents are exactly what the Lavender Fields farm near San Diego, California, is all about.
Lavender Fields was started in June of 1998. The owners chose this sight because the conditions here are perfect for the cultivation of lavender, which requires plenty of sunlight but not much moisture. There are many different kinds of lavender, each with its own scent, and they bloom at different times. The organic oils and floral water extracted from lavender are used in the manufacture of a great variety of products including: creams and lotions, perfume, soaps, candles and air fresheners. Sachets of dried, aromatic lavender can be used in closets, cars, bathrooms and even a purse, suitcase or backpack. Dried bundles of lavender are used for decorative purposes. Lavender can even be used in cooking. The bees at Lavender Fields produce lavender honey. Hand crafted lavender products are made in a workshop on the Lavender Field's grounds and are available in the gift shop.
A stroll through Lavender Fields is a lovely way to spend an hour on a summer day. You can enjoy the fragrances and the peaceful surroundings. Your guide will tell you the history of Lavender Fields and describe the planting process and growing cycle. You will learn about the varieties of lavender grown on the farm. At the distillery you will see how the essential oil is extracted. The farm also raises sheep and llamas, and at the wool shed you can see the yarns and wool that is produced here. If you like, you can walk through the Lavender Fields labyrinth.
Tour operations are seasonal, and largely dependent on the weather. The terrain is rough and sometimes rocky, and so is difficult for walkers, wheelchairs and strollers. Sun protection clothing and good walking shoes are recommended. No dogs, please.