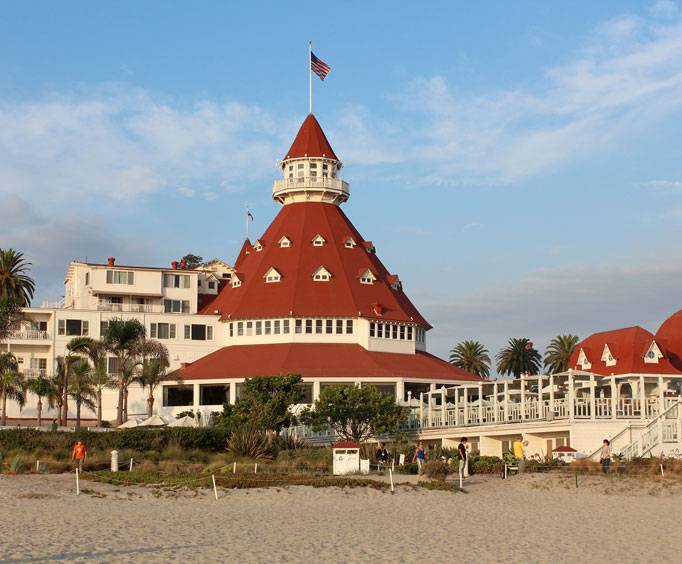 Hotel del Coronado near San Diego, CA
1500 Orange Ave Coronado, CA 92118
If you love traveling and staying in the most luxurious hotels, then you might want to consider booking trip to San Diego, CA and staying at the Hotel Del Coronado. This hotel is from the Curio Collection owned by Hilton and viewed as one of the most iconic hotels in the area. This hotel gives you the ultimate experience of a vacation. Hotel Del Coronado is located on 1500 Orange Avenue, Coronado, CA, only a few miles from the downtown San Diego, CA area.
What is most interesting about this hotel is that it is more than just a hotel. The Hotel Del Coronado is an escape to living like royalty. There is so much to see and do at this hotel, you may never end up leaving the hotel. You may want to travel to the San Diego, CA area only to see and visit this hotel. There are a variety of fine restaurants to choose from that offer the most amazing menus you have ever seen. There is also several options for luxury suites that offer the most amazing ocean views. In addition to the luxury rooms and fine restaurants, you are able to experience ultimate relaxation at their state of the art spas.
Take time to conduct research on the Hotel Del Coronado online to see what you would like to experience. There are so many different activities here that you and your entire family can participate in. Whether it is just you, you and your spouse, or you and your family, everyone will be able to benefit from this luxury hotel. If you are ever in the San Diego, CA area, the Hotel Del Coronado is the number one place you would want to visit.
Events at Hotel del Coronado