Self-Guided San Diego Hunt

Description
Self-Guided San Diego Hunt Photos (1)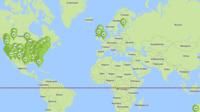 If you are from the San Diego area, how would you like to join us for a self guided San Diego Hunt!? This two to three hour adventure will be sure to entertain all of our guests while also leave them with plenty of new knowledge of San Diego City.
The point of the hunt is to race against the clock and basically finish the chase as quickly as possible. It is not like any scavenger hunt its a race and quest all at the same time. Before the hunt begins our staff will make sure to place a series of clues and as you play the game each clue you find while be used to help you find the next clue in the hunt. As you are having fun playing the game, you will also be able to enjoy the entire city of San Diego and see up close how it has evolved over the years.
The day of the hunt the starting point will be at 900 4th Ave, San Diego, CA 92101, before you take off we will need to see your confirmation paper or electronic ticket.
If this is something you are interested in, go ahead and give us a call or simply book online. As you purchase your tickets be aware you will be instructed to visit a local supplier, also remember you will have a scheduled date of the hunt just no specific time.
So what are you waiting for go get your scavenger mind ready!!!
This adventure will take you through the heart of Chicago and let you see how it has changed over time, while also having fun. This hunt has been evolving over time to be as entertaining as possible, while showing you as much as possible.

Your goal is to race against the clock to finish the hunt as quickly as possible. You will be given a series of clues. Each clue will help you find the next clue. In essence, instead of a scavenger hunt, this is a scavenger race and quest.

When you are ready to start your hunt, purchase your tickets, gather your hunting party, and head to the starting location.

Participants are not required to reserve a set time in order to begin the scavenger hunt.

Pickup & Return:
900 4th Ave, San Diego, CA 92101, United States.

Includes:
All activities
Local taxes
Walking tour

Does not include:
Transportation to/from attractions

Additional Information:
Confirmation will be received at time of booking
A moderate amount of walking is involved
Book Now!