SeaWorld San Diego

500 Sea World Dr San Diego, CA 92109
1-800-987-9852
Description
SeaWorld San Diego Photos (14)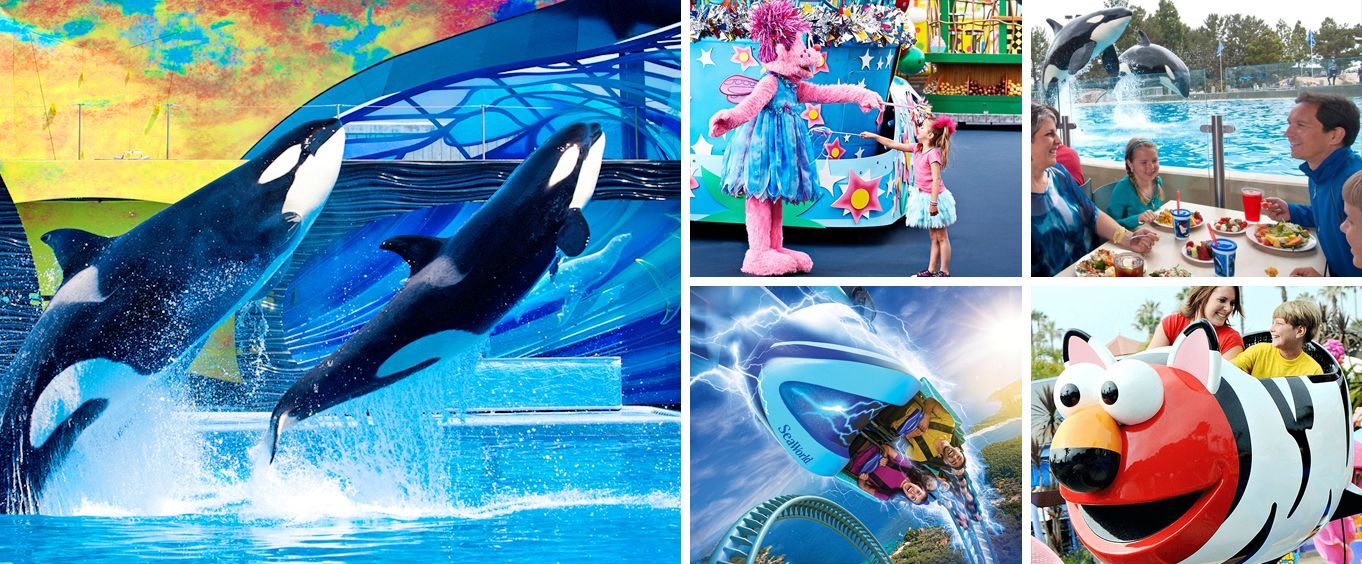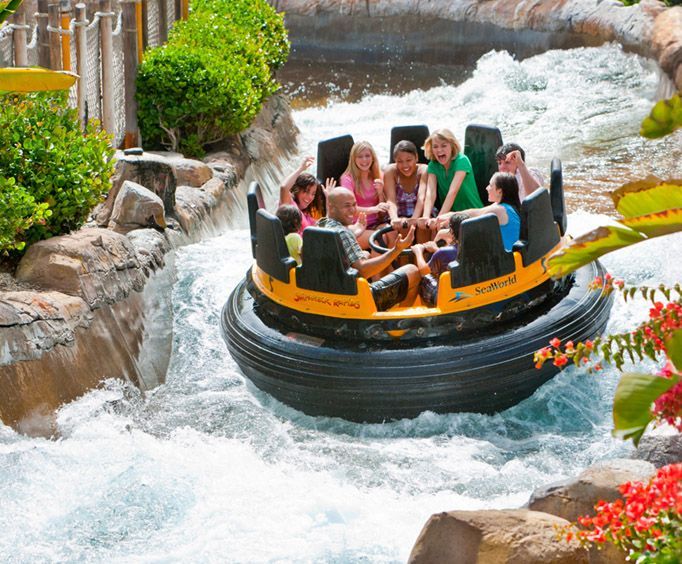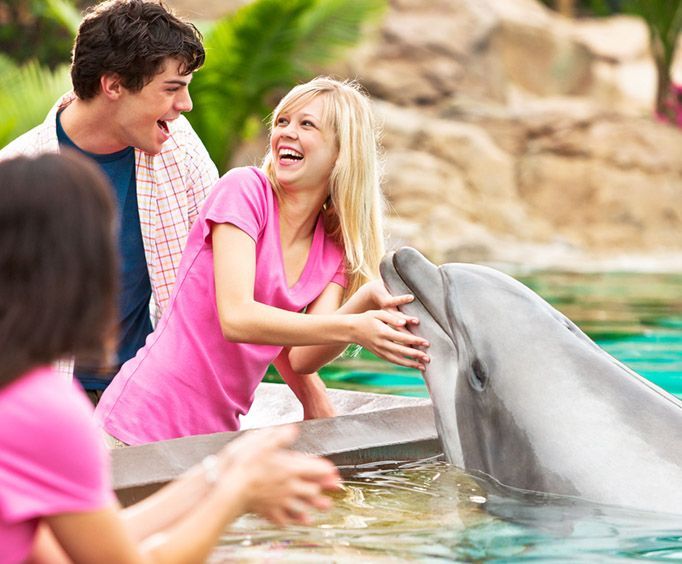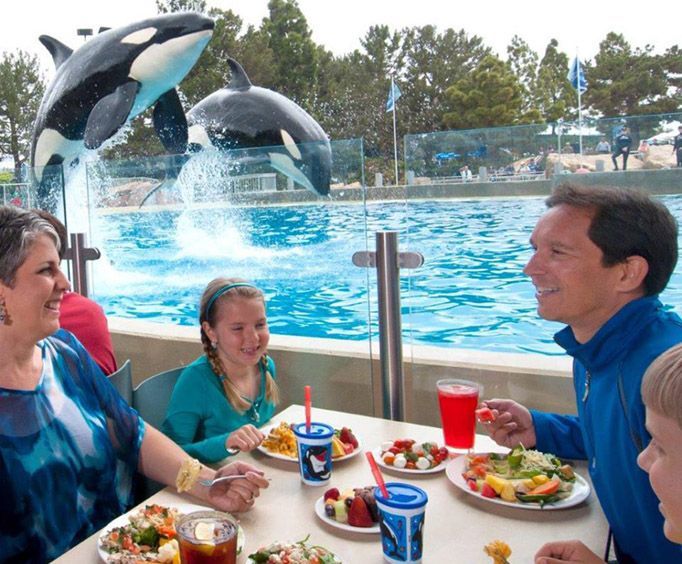 SeaWorld San Diego offers 66 acres of zoological marine attractions and thrill rides along Mission Bay for an exciting time of underwater exploration while visiting the San Diego area.
At this unique theme park, you can touch and feed dolphins, count the teeth on a shark, and ride thrilling coasters. Meet Shamu, the regal prince of the deep, and don't miss the mind-blowing spectacle of Cirque de la Mer. Or even take a thrilling journey aboard the fast-paced water ride Journey to Atlantis.
Of course no theme park would be complete without coasters and thrill rides. SeaWorld is no different, here you can ride the Bayside Skyride, a 1967 gondola ride that travels over Mission Bay; Journey to Atlantis, a joint flume and rollercoaster; the SeaWorld Skytower, a 320-foot gyro tower that was refurbished in 2002, and gives passengers a six-minute view of SeaWorld and San Diego, and plenty of others.
All of these fun shows and coasters will build up your appetite, and you'll need to stop at one of the park's many restaurants and eateries. You can stop at the Shipwreck Reef Café, where you can get baby back ribs, salmon filet, vegetarian burgers, shrimp cocktails, assorted desserts and more. Other great restaurants include Calypso Bay Smokehouse, Mama Stella's Pizza Kitchen, Seaport Marketplace, All Fried Up, and Manny Ray's.
At SeaWorld San Diego you're sure to find a varied time of fun for the entire family!
Park Highlights:
Shows:
Blue Horizons: A sea-and-sky show with soaring birds, playful dolphins and pilot whales, and thrilling aerialists bringing together a great show of color, dance, and entertainment.
One Ocean: Journey with Shamu in the awe-inspiring show One Ocean, a multi-sensory celebration that entertains, educates and inspires.
Pets Rule!: This high-energy show will give you lots of laughs with an unlikely cast of characters that will delight and charm everyone in the family. You'll see cats, dogs, birds, and even potbellied pigs!
Sea Lions Live: You'll see SeaWorld's resident sea lion comedy team of Clyde and Seamore as they put on some funny sketches for you. Sea Lion S.I., Sea Lion Idol, and more await your cheers and laughter.
Rides:
Bayside Skyride: 1967 VonRoll type 101 gondola ride that travels over Mission bay for a 6-minute ride—the only VonRoll Skyride that travels over a body of salt water. It starts in the Northwest corner of the park, travels over part of Mission Bay on two 80-foot towers, and lands on the other side. Then an attendant has to push your gondola around to catch the wire to take you back to the other side. This ride provides a great view of the backstage of Cirque de la Mer. The Sea World Skyride has the longest span between towers out of any VonRoll Skyride ever built—925 feet. From 1967 to 1988, the skyride was known as the SeaWorld Atlantis Skyride.
Journey to Atlantis: A joint flume and rollercoaster, you'll take a trip over multiple hills, through towers, and into lakes. Tons of 'lost city of Atlantis' themed decorations and even a flood based duel-elevator themed lift.
Dolphin Point: The popular bottlenose dolphins are on exhibit here in a pool where guests have free access to pet the dolphins. Guests can also interact with the dolphins during scheduled presentations hosted by trainers that give them the opportunity to touch, feed, and give training signals to the dolphins. The Dolphin Encounter and Dolphin Interaction Program also take place at this exhibit. Nearby is Otter Outlook, home to the park's California Sea Otters.
SeaWorld Skytower: A 320-foot Gyro tower that was built in 1969. The ride was refurbished in 2002 with a new capsule. The ride gives passengers a six-minute view of SeaWorld and San Diego. It rises at a rate of 150 feet per minute while spinning slowly. The Skytower is a great place to take a good look at SeaWorld and its attractions; the view from the Skytower also includes Mission Bay and other parts of San Diego.
Sesame Street's Bay of Play: An interactive children's play area that opened in 2008 and is based on the long running Sesame Street children's television series. The area includes three rides: Abby's Seastar Spin, a spinning 'teacup' attraction, Elmo's Flying Fish, an attraction in the style of Disney's 'Dumbo' ride, and Oscar's Rockin' Eel, an eel themed 'Tug Boat' ride.
Shipwreck Rapids: A raft ride that ventures into the shipwrecks of the deep with twist and turns. At one point riders pass through a live turtle exhibit. There is also a point where riders go underneath a waterfall and get extremely wet.
Turtle Reef: Features up to 60 sea turtles in an aquarium with a variety of fish and other creatures.
Wild Arctic: A simulator ride through the Arctic set in a giant helicopter, Wild Arctic features both a simulator or the option to go straight to the exhibits of the wild arctic. After the ride, guests can view animals of the Arctic from both underwater and above. The first exhibit features four adult beluga whales and, as of 2010, a beluga calf. The second exhibit features a male and female pacific walrus. In addition, the third exhibit has polar bears.
Riptide Rescue: A spinning flat ride, themed to raft boats.
Manta: A Mack launched roller coaster featuring two launches LSM of up to 43 miles per hour. The two minute, 2,800-foot long ride stands at a height of 30 feet and features a drop of 54 feet. So climb aboard Manta – SeaWorld's first double-launch, multimedia coaster - and fly, twist, and dive like a ray.
Reviews
4.9 | 19 reviews
William Weimer
CA
✓
Verified Traveler
Loved it they have made so many improvements to it since i went last. We should have spent two days there as well!
Darko Vracevic
AZ
✓
Verified Traveler
As always we had a good time in seaworld. Gotta go a next year to see 2 new sites that they are building there.
Barbara Raeder
NV
✓
Verified Traveler
My only complaint is that we needed a 2 child stroller and it was big, heavy and hard to steer. Would have preferred a lighter stroller and easier to steer. Such as the stroller at the san diego zoo.
Kathy Bybee
Lapwai, ID
✓
Verified Traveler
"Good"
Good
Book Now!