San Diego Shore Excursion: Uss Midway Museum

Description
San Diego Shore Excursion: Uss Midway Museum Photos (1)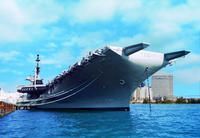 If you are someone who likes history then you will love this tour on the USS Midway. You will be in a Museum that features lots of history and action. It will be an exciting chance for you to see a powerful ship as well as learn something new and exciting. This is a family-friendly adventure and something you can bring the kids along with you to learn and explore. If you're looking to spend your day away from everything then this is the perfect opportunity for you to enjoy a wonderful means you. Get away from the hustle and the bustle the city and enjoy a scenic location and enjoy an interesting exhibit. There are plenty of things for you to see and do while you are on the ship. This is the perfect excursion for someone who is looking for a day out while they are in San Diego. This is the U.S. Navy carrier that was active in Vietnam.
It is a long-serving carrier that features some interesting advances. You will get to see it and see how it was built. It was the largest ship in the world for a decade and you will see why. You'll walk the footsteps that many thousands of Navy sailors took as well and explore a new and exciting place. You will also have a self-guided audio tour to make sure that you are learning as you go along on this great adventure.
There are many exhibits for you to see and you will love them. Over 60 exhibits exist and there are many of them. There are over 25 restored aircraft on display as well.

Experience life at sea without leaving port on a San Diego shore excursion to the USS Midway Museum, home to a US Navy aircraft carrier that was active in the Vietnam War and Desert Storm. This family-friendly attraction is fun, interesting and historical, and it also allows you to enjoy some of the beautiful San Diego waterfront.
The USS Midway is a long-serving US Navy aircraft carrier (active from 1945-1992) and was the largest ship in the world for a decade, housing 4,500 crew members! On this San Diego shore excursion, you can visit the USS Midway Museum and walk in the footsteps of 225,000 Navy sailors on a self-guided audio tour narrated by former Midway sailors and officers.

More than 60 exhibits, from the engine room to the bridge, and 25 restored historic aircraft are on display. Find out what it was like to be part of a "city at sea" as you explore the galleys, officer's country and sleeping quarters of the first Navy ship too large to go through the Panama Canal. You will be amazed by the 4-acre (1.6-hectare) flight deck and the 360-degree panoramic view of downtown San Diego and San Diego Bay. Don't miss the flight simulators and climb-aboard aircraft, and stop by the gift shop and caf? for souvenirs and snacks.

Please note:
This excursion is located within a 2-minute walk to the cruise port, so you determine the time you return to your ship in San Diego. Please allow yourself ample time to enjoy the excursion and ensure your timely return to the port. This excursion is not covered by our worry-free policy.
Book Now!