San Diego Kids Surf Lessons

Description
San Diego Kids Surf Lessons Photos (1)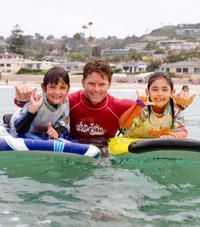 This is going to be a wonderful adventure if you are someone who loves being out in the water. Everything is included. This is a popular choice for the teacher kids how to surf. If you're looking for a nice and lovely family time. This is going to be a fun and exciting thing to do and you will have the time of your life. There is a lot of a great time for you to really have fun. If you have kids who want to learn how to surf then this is the perfect lesson for them. There will learn in this 90-minute lesson. It's going to be a wonderful time as our professional and friendly instructors teach them everything they need to know about surfing. They will have the time of their lives as well as being able to really explore and learn this amazing skill. If you want to treat the kid's something nice on your vacation in San Diego then this surfing adventure will be the perfect opportunity for you to do that.
Make your vacation even special by really doing something nice for the kids. It is going to be a lot of fun and is perfect for kids who are aged 5 to 11. There will have the perfect introduction for how to surf. It is great for beginners and our instructors are some of the best. It will be taught in a great and beautiful setting which is La Jolla Shores. This will be the time of their lives.
Make sure you have an even more exceptional time when you're in San Diego with this great tour. Cover the basics and learn everything needed.

Calling all kids who want to be the next Laird Hamilton! Learn to surf in one of Southern California's most beautiful settings - La Jolla Shores - from qualified, friendly instructors. You'll be popping up on your board and riding waves in no time after you've completed this 90-minute lesson. It's the best memory you'll take home from your San Diego vacation.
This group surfing lesson is just for kids aged 5 to 11 and is the perfect introduction to learning how to catch waves and improve surfing skills. The group setting makes the surf lesson a fun activity to share with other adventure-seeking kids.

A team of expert instructors will cover basic aspects of surfing, from ocean safety and surf etiquette to paddling, pop-ups and wave-riding techniques. But perfection isn't necessary - follow the motto "the best surfer in the water is the one having the most fun," and you'll have a wonderful time, even if you don't master the sport in 90 minutes. Surf instructors are certified in CPR, first aid and lifesaving.

Please note: lesson is open to children ages 5 to 11.
Book Now!