San Diego, California Sightseeing Tours & Cruises – City Tours
City tours are a great way to see more of the city you're vacationing in so that you have a better idea of the places you'd like to return to for more in depth sightseeing. An excellent way to learn your way around the city and familiarize yourself with the main attractions, city tours can also provide give you plenty of photo opportunities and a knowledgeable guide.


The San Diego City and Tijuana Deluxe Combo Sightseeing Tour is a one of a kind experience that will make sure you have a blast as you visit the sights near the notorious Tijuana border on this one a kind trip.
Available 112 days between Jun 21, 2018 & Dec 30, 2018
View Schedule
There are city tours in which you will love to take part in and travel around the California area with your family and friends along the way while enjoying the San Diego area and hearing about the great art exhibits.
Available 180 days between Jun 22, 2018 & Dec 30, 2018
View Schedule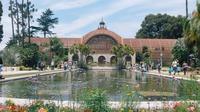 Tourists will spend hours going through Balboa Park and observing the world renown museums, nature trails, art galleries, and more, and there are activities available for the entire family, and tourists will also be able to get a bite to eat at a local park restaurant.
Available 136 days between Jun 22, 2018 & Dec 29, 2018
View Schedule
This family-friendly tour is ideal for a small group and provides you with inside information on area attractions; you'll also travel on a boat to see local sites from the water.
Available 108 days between Jun 23, 2018 & Dec 29, 2018
View Schedule

The Private Mountain and Desert Tour of San Diego, California, is one of the best city tours in the area, included on this once in a lifetime tour is free hotel pick up and drop off and free snacks and beverages.
Available 333 days between Jun 21, 2018 & May 31, 2019
View Schedule

The San Diego Gaslamp Quarter Walking Tour is a wonderful way to explore the place and see the many wonderful sights it has to offer, you will see the Historic Gaslamp Quarter, art galleries, boutiques, night clubs, restaurants and more.
Available 177 days between Jun 22, 2018 & Dec 15, 2018
View Schedule
The Who Dunnit is a city tour that lasts for two hours long. If you like to play detective and have the guest to collect virtual clues. This is a good game to play. They would have to solve the mystery of the whodunnit game. It is perfect for groups and families to enjoy.