Romantic Sunset Sail for 2 People

Description
Romantic Sunset Sail for 2 People Photos (1)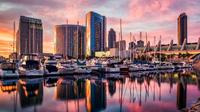 This is going to be a romantic experience for everyone. You will have a great sailing tour and you will remember for the rest of your life. This is going to be a two-hour adventure where you sail around the high seas and have the time of your life. You will get to have a comfortable ride and you Can give you a quick briefing as you set off on your journey. This In will be giving you everything you need to know to know. You will get up to speed on your journey once you get comfortable with your boat. You Then who is your personal guide and who is very friendly will show you everything you need to know. There are four different locations for you to choose from and there is going to be something you like.
Treat your sweetheart or that special someone to a lovely day out we can enjoy the water as well as enjoy looking at beautiful nature and each other's company. There will be something for everyone here. You'll get to explore multiple locations based on what you choose. You will get to see a wonderful tour of the Bay as well as lots of museums and other interesting items in the water. If you are looking to explore the area and truly have an amazing time then this is going to be for you. Have the time of your life and do something special.
Spend your time doing something with your special someone and create a stronger bond and memories that last a lifetime. This is going to be something you never forget. Take a wonderful sailing cruise.
Your journey begins immediately after checking in as you get comfortable on the boat. Your captain will give you a quick briefing before departing from the dock. The captain is your personal guide for the evening, so if you have any special requests be sure to let him know. We have 4 different locations to choose from, there is bound to be a location nearest you!

If you choose to leave from our Downtown location you will be in the heart of San Diego Bay. Located in the Marriott Marina next to Seaport Village there is so much to see on your tour of the bay. The Midway Museum Naval Ship is located close by, marvel at its immense size as you cruise right underneath its massive hull. Then sail down to south bay under the Coronado Bridge and into the wide open spaces by the silver strand beach.

Our Coronado Island location is a popular departure spot as it is located next to a seafood restaurant and the Coronado Golf Course. Cruise through the marina and explore the many yachts that call Glorietta Bay home. Once you leave the marina you will be directly under the Coronado Bridge, a iconic spot for taking your couples photo! Sail through the expansive waters of the bay and enjoy the sights of the San Diego skyline.

Harbor Island is a conveniently located departure spot as it is right across the street from the airport. Take the opportunity to marvel in one last San Diego sunset before you hop on a plane back home. This location also offers you views that you won't see from the other locations if you sail towards the mouth of the bay that opens to the ocean. Cruise past the steep hillsides of Point Loma and get dropped off at nearby restaurants to keep the party going!

Mission Bay has it's own charm as it is the only true recreational bay in San Diego. The relaxed and 'lake-like' atmosphere appeal to those who wish to cruise through its many marinas and beachfront properties. Many wind surfers and water sport activities can be marveled at while you speed through the calm waters of the bay. The local wildlife is in abundance in Mission Bay, and you can get up close and personal with sea lions and dolphins. This is also the most ideal location to leave from if you would like to hit the open ocean with uninterrupted views of the sky meeting the water.


Pickup & Return:
Mission Bay
Downtown
Harbor Island
Coronado Island.
Departure Times: Departure time is dependent on the sunset time, which varies throughout the year.

Includes:
All taxes, fees and handling charges
Fuel surcharge
Beverages
Local guide
Private tour

Does not include:

Additional Information:
Confirmation will be received at time of booking
Minimum age is 21 years
Not recommended for pregnant women
Not recommended for participants with heart complaints or other serious medical conditions
Not wheelchair accessible
U.S and Canadian Citizens: Must bring a government issued photo ID and proof of citizenship (U.S birth certificate or naturalization certificate) or a passport for re-entry to the United States. Children, ages 18 and under only require a birth certificate. Non-U.S. Citizens: Either a Passport, I-94, Multiple Entry Visa or Resident Alien Card is required for re-entry to the United States
A current valid passport is required on the day of travel