Old Town Tequila and Tortillas San Diego Small Group Tour with a Local Guide

Description
Old Town Tequila and Tortillas San Diego Small Group Tour with a Local Guide Photos (1)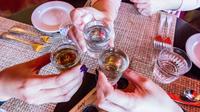 This tour is a fantastic experiencing the nature, food, history, and drink of San Deigo! Starting at the town center, hike up to the Old Presidio Historic Trail to the location of the first placed cross in the state of California! Enjoy the views of the city and the vast Pacific ocean.
Now it's time to head back down and enjoy a crisp handmade tortilla. What's best with your tortilla? None other, than tequila, of course! We have a vast selection of tequila varieties to chose from our outdoor bar.
After your delicious meal and drink, we head out to some of the first stagecoaches used in California. Your guide will take you through the open air Mercado full of imported crafts. Your guide can help you chose the real from the fake souvenirs on this wonderous tour!
After shopping for your souvenirs, check out printing press used in San Deigo and the oldest church in San Deigo. Check out the landmark cemetery going back to the 1850s.
Next, we take you to the local tequileria, housing a collection of many thousands of bottles. While there, be treated to some of the best tequilas of this world!
Our final stop is at one of San Deigo's fabulously known Mexican restaurants. There you can have some fantastic Mexican food, some delicious margaritas, and great tequilas.
Your Pickup and Return will be at 2660 Calhoun Street and meet at the flagpole in front of the Cosmopolitan Hotel in the town square. Departure time is at 1:00 PM. Your tour price includes local English speaking guide, handsome tortillas, and a shot of tequila. Your tour price does not contain any additional food or drink, any personal shopping, and any tips or gratuities for your guide.
Go beyond the typical trolley, boat, or waking tour and experience the nature, history, food, and drink of Old Town San Diego!
We'll start our San Diego tour in the town centre, then, weather permitting, begin our hike up the Old Presidio Historic Trail to the site of the first-placed cross in the state, marking the 'Birthplace of California.' Experience panoramic views of the city and the Pacific Ocean, with your guide pointing out features of the natural landscape and historical highlights along the trail. This trail is an adventure that many locals don't even experience, so you're going to be a true San Diego insider!
Back down the hill and no doubt hungry from all that hiking, you'll be treated to your first handmade tortilla. And what goes best with tortillas? Tequila, of course! You'll have the opportunity to sample from a large selection of tequilas available at a unique outdoor bar. Learn about the wide variety of tequilas, and find out how to make your first tequila choice of the tour a great one.
We'll continue on to view one of the oldest haciendas in California, and then on to a stable and barn that houses some of the first stage coaches used in California. With your guide, you'll wander through an open-air mercado loaded with local and imported crafts and artwork. Best of all, your guide will be able to help you differentiate the authentic from the imitation — no bad souvenirs on this tour!
After your short shopping detour, you'll take in more history, checking out the site of the first printing press in San Diego, and then, if it's open, heading inside the oldest church in San Diego. You'll also get a chance to view the city's oldest brick building followed by a stroll through a landmark cemetery with graves dating back to the 1850s.
Hungry again? Good, because we've got you covered with our next stop at a street-side tortilla stand. You'll get to compare the corn tortilla to the flour — and we'll leave it to you to debate which is best.
Then, we'll take a brief walk over to a local tequileria boasting a collection of thousands of bottles. Here, you will be treated to a taste of one of the best tequilas in the world. (This sample is included as part of your tour price, but if tequila scares you, you may instead choose a margarita, beer, or another beverage of your choice.)
Lastly, we'll stroll back through the historic neighborhood to our final stop, one of San Diego's landmark and best known Mexican restaurants. Here you will enjoy your fourth, and yes, fifth (are we full yet?!) tortilla tasting and, best of all, we'll arrive just in time for happy hour!
We'll bid adios here, but feel free to linger and check out the huge collection of tequilas, enjoy a delicious margarita, and dig into some great Mexican food. Or, if you want to keep moving, you can continue shopping and exploring this great San Diego neighborhood.


Pickup & Return:
2660 Calhoun Street. Meet at the flagpole in front of the Cosmopolitan Hotel in the town square.
Old Town Mexican Café, 2489 San Diego Ave.
Departure Times: 1.00 PM

Includes:
Local English-speaking guide
5 handmade tortillas
Shot of tequila (or a margarita, beer, or soda of your choice)

Does not include:
Additional food or drink
Personal shopping
Tips and gratuities for your guide

Additional Information:
Confirmation will be received at time of booking
Please wear comfortable clothing appropriate for the weather forecast, as well as comfortable footwear for uneven and rocky trails.
In the event of rain, the hiking portion of the tour will be spent in the local merchant square.
Children between the ages of 6 and 11 inclusively are permitted on this tour.
You will be in a small group of a maximum of 12 people.
Book Now!