Maritime Museum of San Diego Admission

Description
Maritime Museum of San Diego Admission Photos (1)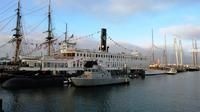 If you are looking to enjoy a day of learning and excitement then you will love the maritime museum of San Diego. It is an excellent way to spend your time with your family and enjoy a place that offers a lot of fun. If you're looking for a way to take the kids out and show them a good time then this is the perfect chance. The maritime museum offers a lot of fun and excitement and you will love spending your time here. If you want a day out of learning then you will like it as well. This museum has some of the finest historic ships in the entire world. You will love looking at beautiful ships such as the USS dolphin and HMS Surprise. You will get to see how ships were built in the olden days and it will give you a window into the history of the world.
This is a kid-friendly Museum and you are encouraged to bring your kids so they can get a hands-on view of what historic ship satellite. Many of the ships go sailing so they are okay. There also ships for will watching as well. You might even see a pirate or two while you are sailing so that will be a lot of fun for you. This is generally an exceptional way for you to have fun and enjoy yourself.
This Museum offers a great way for you to research and contains a lot of souvenirs that you want to buy. There are so many amazing things to do and see at this Museum. Overall it will be a great experience for you.
The Maritime Museum of San Diego is housed in one of the finest collection of historic ships in the world. The iconic and majestic Star of India is docked in downtown San Diego on the beautiful waterfront and is the main attraction at the museum. The museum's collection includes a Soviet submarine the B-39, an American research submarine the USS Dolphin and the HMS Surprise (star of Master and Commander and Pirates of the Caribbean 4), just to name a few.

The museum is kid friendly and encourages hands on experiences for families. Many of our ships go sailing, whale watching, or just cruise around the bay. Occasionally you may witness a pirate or two wandering around, who just might help put a smile on your child's face.

The museum also contains a world renowned research library as well as a retail shop with lots of souvenirs, historic and academic books or memorabilia for sale. The museum is a great place to watch July 4 fireworks, spend the night with your family on board or sail up the California coast to Catalina. The Maritime Museum of San Diego offers something for everyone!

Pickup & Return:
Conveniently located near the airport in downtown San Diego.
Departure Times: 9am-8pm Summer hours 9am-9pm

Includes:

Does not include:
Does not include bay excursions

Additional Information:
Confirmation will be received at time of booking
Children must be accompanied by an adult
Kids Go Free October: For each paying adult two children receive free admission. Additional child admissions will be charged at the gate. Only valid for travel in October
Book Now!