Gps-Guided Talking Tour Cars San Diego

Description
Gps-Guided Talking Tour Cars San Diego Photos (1)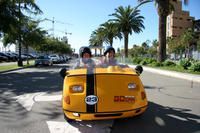 You can come on the talking tour with your car in San Diego, and you must have the tour plugged into your car so that you can listen while driving. You must ask the tour company if they have a tour that will take you past all the places in San Diego that you want to see most, and you could drive around all day having a nice time chatting with friends and family.
The tour is a tape or CD that you put in and start driving, and it talks to you as you are driving. You must ask the GPS guided tour company if there is a tour that is right for you. You get to drive around at your own pace, choose the track when you want to move on, and you must stop to take pictures when you want.
You must have a tour of the city that will help you move at your own pace, and you must plan to stay out all day if you like. You could get down by the water to see the ships and the harbor. You could bring your family, or you might come out and drive the tour solo.
Get the tickets for the tour online, come out for the CD, and get the tour started with your personal car. You must plan to take this tour when you are in San Diego for the first time, want to see the best that the city has to offer, and you want to move at your own pace.
GPS guided walking tours send you all over San Diego for less money and more fun.
GoCars are easy and fun to drive. They're guided by GPS (Global Positioning System) - which means that the car always knows where you are, even if you don't. As you drive, it tells you where to turn and what you're passing, and it waits patiently if you want to stop. As soon as you turn your GoCar back on, the tour picks up where it left off.
Your tour can take anywhere from one hour to a full day. That's the best thing about it... you're on your own schedule, not a tour bus operator's. Just take a car, see what you want and bring it back when you're done. If you find that you're having the time of your life, keep going! After all, it's not often you've got a convertible yellow talking car at your disposal.
The 3-wheeled cars seat two and have a lockable trunk for your things. Their small size makes parking a breeze, and in San Diego, that's a major bonus. They can even be parked in motorcycle parking.
San Diego GoCar Tour: 1-Hour Rental
1-hour rental per vehicle. Maximum 2 passengers
San Diego GoCar Tour: 2-Hour Rental
2-hour rental per vehicle. Maximum 2 passengers
San Diego GoCar Tour: 3-Hour Rental
3-hour rental per vehicle. Maximum 2 passengers
San Diego GoCar Tour: All Day
All day rental per vehicle. Maximum 2 passengers